This article discusses how to write an effective introduction for academic essays. To give you an opportunity to practice proofreading, we have left a few spelling, punctuation, or grammatical errors in the text. See if you can spot them! If you spot the errors correctly, you will be entitled to a 10% discount.
The introduction part is considered one of the most important parts of a manuscript. It determines the entire tone and style of the essay. Writing an impactful introduction is more than just following the rules. If you search on the Internet, you may find stereotypical rules and regulations. However, it is important to understand that the author's creative sense and ability to comprehend the topic helps in executing an effective introduction.
Generally, the purpose of writing a good introduction is to give the readers a clear idea of the central theme of your essay. It generally involves the context of the topic and a clear outline of your entire discussion. At Best Edit & Proof, we believe that your essay should not be a mystery novel that holds suspense; rather, we make sure to involve contention and supporting arguments to strengthen your topic while editing your essay. Let's have a look at the major elements of writing an introduction and how you can write an impactful introduction.
Major elements in an introduction
We previously have said that apart from following stereotypical rules, a writer needs to use their creativity and understanding of the topic. When creativity mingles with these major elements, the introduction starts speaking for your essay. At Best Edit & Proof, we follow these basic elements while proofreading your essay.
1. Background information and context
A good introduction generally starts by providing a background idea of your topic. It helps a reader to grasp the key issue you want to address. However, it should be brief and include the relevant information. A concise introduction provides detailed information related to the structure of an entire assignment.
2. Purpose of your essay
As you don't have enough words to describe everything in your introduction, here, you can limit the chances of discussion. You need to draft the purpose of your essay in the introduction part. However, don't forget to maintain the flow.
3. Outline the structure
You need to outline an overview of the essay. It generally involves a small discussion of the case studies and what your essay will be about.
4. Your reader's expectation
When you are writing, you are not only writing for yourself. Therefore, one most important thing that you need to keep in mind is what your reader is expecting from your essay. Don't go on discussing complex terminologies only. Don't write with apathy.

Most important things to remember while writing an academic essay introduction
Till now, we have discussed the major elements of an introduction. Now let's have a look at some crucial information that you need to keep in mind. Introduce the essay, focus on it, and engage readers.
i. Opening strategies
Even after learning all the major elements, we often observe that researchers still suffer from confusion. They still wonder what can make a good opening. No matter with which you are starting your essay, whether it is a fact, keynote, or anecdote, make sure that it is directly related to your focus on the topic.
Suppose you choose a quotation that doesn't help in establishing the context; it may not play any major role or mislead the reader. Be direct, be specific. Use your creative sense and mingle it with information.
ii. Keep the tone in mind
We have already mentioned that you need to focus on the background; however, students often make a common mistake that they start drifting from the main topic while they are putting on the information. Yes! Writing an informative introduction is important, but it should not look like a bunch of information. The primary purpose of the introduction is to introduce and focus on the main topic. Remember that anyone can collect information from a trusted database but what makes your introduction impactful and effective is your own style of using this information.
iii. Get your essay reviewed by an expert
Last but not least, once you have completed your essay, you should hire an expert proofreader to go through it. Now you may think "Why should I even hire a proofreader?" There are ample reasons, but the initial purpose of hiring an experienced proofreader is to ensure accuracy. Usually, proofreaders are highly qualified and have years of experience in proofreading essays on different topics. Therefore, it is easy for them to proofread your introduction as well as the entire essay to make it more impactful if required. Some students even leave the introduction part to write only after completion of the entire essay. Here, a proofreader reads the entire essay and crafts the most impactful introduction according to it. You can also avoid major grammatical mistakes in your essay by hiring a doctorally qualified experienced proofreader.

Do you need an expert to review and edit your assignment?
Have you completed your assignment? Do you want someone to review the entire essay and make necessary changes if required? If yes, we bring the most trusted and efficient proofreading service near you. At Best Edit & Proof, our experts will proofread your essay to make necessary changes in the introduction as well as the entire essay. We even have 24/7 customers care service to assist you. Feel free to contact us.
Best Edit & Proof expert editors and proofreaders focus on offering manuscripts with proper tone, content, and style of academic writing and also provide an upscale editing and proofreading service for you. If you consider our pieces of advice, you will witness a notable increase in the chance for your research manuscript to be accepted by the publishers. We work together as an academic writing style guide by bestowing subject-area editing and proofreading around several categorized styles of writing. With the group of our expert editors, you will always find us all set to help you identify the tone and style that your manuscript needs to get a nod from the publishers.
English manuscript formatting service
You can also avail of our assistance if you are looking for editors who can format your manuscript, or just check on the particular styles for the formatting task as per the guidelines provided to you, e.g., APA, MLA, or Chicago/Turabian styles. Best Edit & Proof editors and proofreaders provide all sorts of academic writing help, including editing and proofreading services, using our user-friendly website, and a streamlined ordering process.
Get a free quote for editing and proofreading now!
Kindly visit our order page if you want our subject-area editors or language experts to work on your manuscript to improve its tone and style and give it a perfect academic tone and style through proper editing and proofreading. The process of submitting a paper is very easy and quick. Click here to find out how it works.
Our pricing is based on the type of service you avail of here, be it editing or proofreading. We charge on the basis of the word count of your manuscript that you submit for editing and proofreading and the turnaround time it takes to get it done. If you want to get an instant price quote for your project, copy and paste your document or enter your word count into our pricing calculator.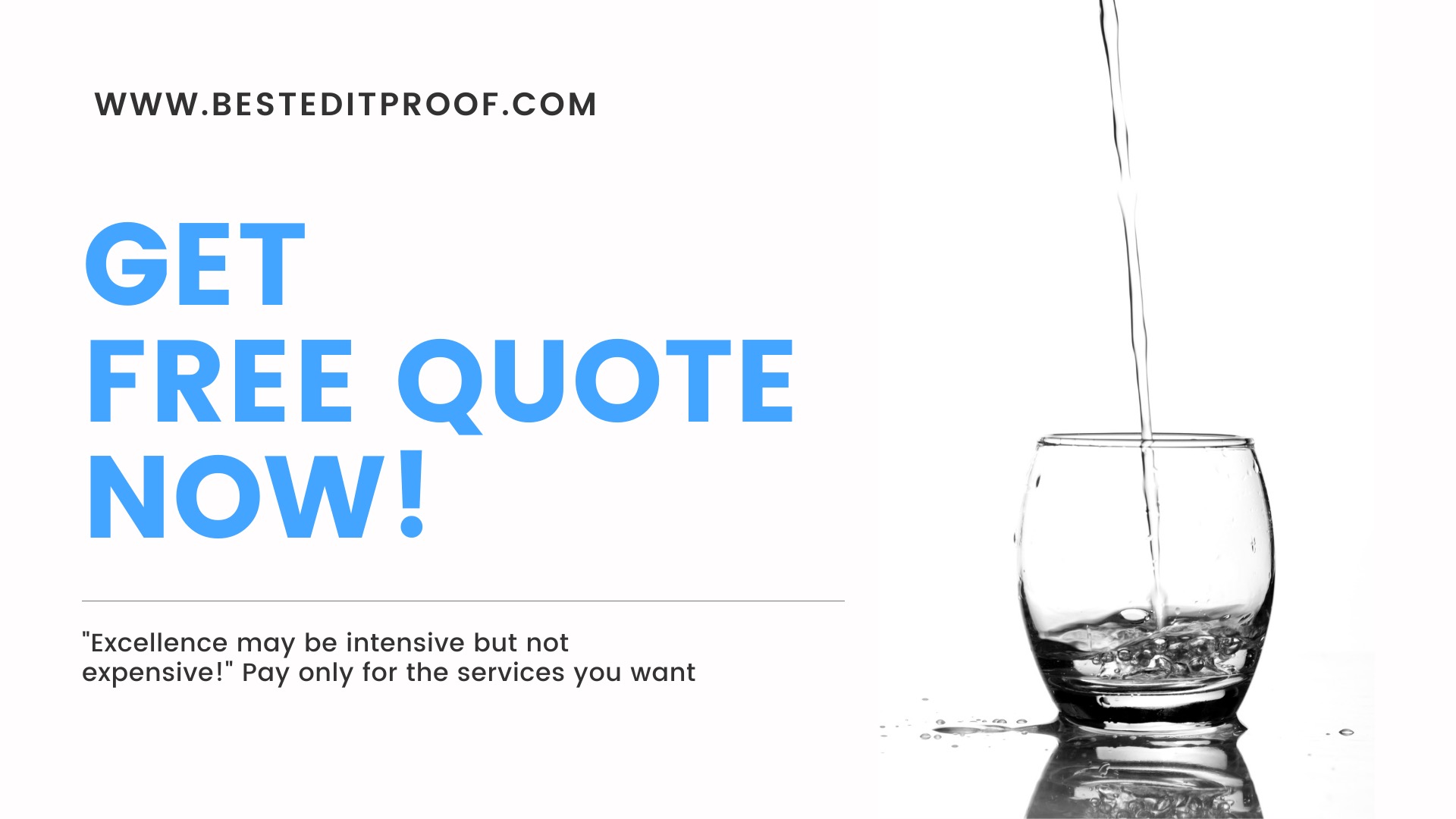 24/7 customer support | Live support
Contact us to get support with academic editing and proofreading. We have a 24/7 active live chat mode to offer you direct support along with qualified editors to refine and furbish your manuscript.
Stay tuned for updated information about editing and proofreading services!
Follow us on Twitter, LinkedIn,Facebook, Instagram, and Medium.
For more posts, click here.
Do you like this article? Make sure to share and subscribe!