No matter what type of article or content you're working on, editing and proofreading can do wonders to improve your work and give the perfect finishing touch to it. While many think that editing and proofreading are just formalities, these contribute to the quality of your work.
Precisely why editing and proofreading are essential steps in the writing process and which have professionals dedicated to this field. If you, too, are wondering how these two activities can help you improve your work, this article is all that you will need.
Read on to find out just how editing and proofreading can turn your piece of work from average to a first-class piece of work.
What are editing and proofreading services?
Before understanding the importance of editing and proofreading services and how they help, we need to first understand what they are. There is a common misunderstanding among some students and researchers who assume that editing and proofreading are the same things.
However, when you enter the professional field, you will come to know that both are quite different and are different steps in the academic writing process.
If we go by the writing process, editing comes first. It is the first, thorough review of the draft that focuses on sentence structure, quality of the work, relevancy of the contents, tone of the piece, and so on. This activity involves a thorough correction of a manuscript.
Proofreading, on the other hand, is carried out at the very end of the writing process, just before it is sent for publishing or submission. Proofreading is the act of going through the document one last time to look out for any spelling and grammatical errors, checking the citations, and so on. It is the last touch to the document before it is published.
How can editing and proofreading help you improve your work?
Now that we have finally understood what editing and proofreading are and how they are different from each other, we shall now move on to the importance. They can improve your academic work in various ways by adding quality and refining your content. Let us take a more detailed look at it.
Editing
As mentioned earlier, editing is the process of thoroughly going through the content and looking at structural formations, sentence construction, content relevancy, and so on. By editing, this is how you can improve your work:
You will be able to get well-structured sentences

The introduction and conclusions will give a stronger impression

It will help you organize and structure your paragraphs better

The content will have a clearer meaning and intentions that will be easier for the readers to understand and grasp the main idea of your manuscript

It will help you check if there are relevant pieces of evidence to support your statements and their purpose.

It will help you detect misleading or confusing words and help you eliminate repetitive words

Plus, it can help you check if you are using the right technical terms in the right place
Editing can be a very complex process and needs to be repeated a few times before you can call a piece of work well edited. While it may seem hard at first, you can get better at it over time with practice.

Proofreading
Proofreading is almost the last stage of the writing process and consists of taking one final look at the work to detect simple and easy-to-miss mistakes. While it may seem like a minimal job, proofreading, too, can be a tricky task to do if you don't handle it with patience. Here is how proofreading can help you improve your work:
It will help give you enough time to go through your content to understand what you can improve and correct

It will help you understand the common mistakes you make when writing and thus help you improve your writing habits

Also, it will help you detect the minor issues that you otherwise would have overlooked

It will help you ensure that all your citations are proper and correctly addresses
Proofreading, just like editing, needs more than one check. What you need the most here is patience, as that way, you can properly look through your content and discover the smallest of mistakes.
Conclusion
So, that is how editing and proofreading can help you improve your work. Now, you cannot be an expert at it right off the bat. It takes practice and consistent tries to become better at it over time. However, if you are not confident in your skills, you can always rely on professionals who can help you get expert opinions and services. Either way, these two are an important part of the academic writing process, and you should never overlook them. Even if you cannot get a professional to help you out, you should always do the bare minimum editing and proofreading on your own.
If you need us to make your manuscript shine, contact us unhesitatingly!
Best Edit & Proof expert editors and proofreaders focus on offering manuscripts with proper tone, content, and style of academic writing, and also provide an upscale editing and proofreading service for you. If you consider our pieces of advice, you will witness a notable increase in the chance for your research manuscript to be accepted by the publishers. We work together as an academic writing style guide by bestowing subject-area editing and proofreading around several categorized writing styles. With the group of our expert editors, you will always find us all set to help you identify the tone and style that your manuscript needs to get a nod from the publishers.
English manuscript formatting service
You can also avail of our assistance if you are looking for editors who can format your manuscript, or just check on the particular styles for the formatting task as per the guidelines provided to you, e.g., APA, MLA, or Chicago/Turabian styles. Best Edit & Proof editors and proofreaders provide all sorts of academic writing help, including editing and proofreading services, using our user-friendly website, and a streamlined ordering process.
Get a free quote for editing and proofreading now!
Visit our order page if you want our subject-area editors or language experts to work on your manuscript to improve its tone and style and give it a perfect academic tone and style through proper editing and proofreading. The process of submitting a paper is very easy and quick. Click here to find out how it works.
Our pricing is based on the type of service you avail of here, be it editing or proofreading. We charge on the basis of the word count of your manuscript that you submit for editing and proofreading and the turnaround time it takes to get it done. If you want to get an instant price quote for your project, copy and paste your document or enter your word count into our pricing calculator.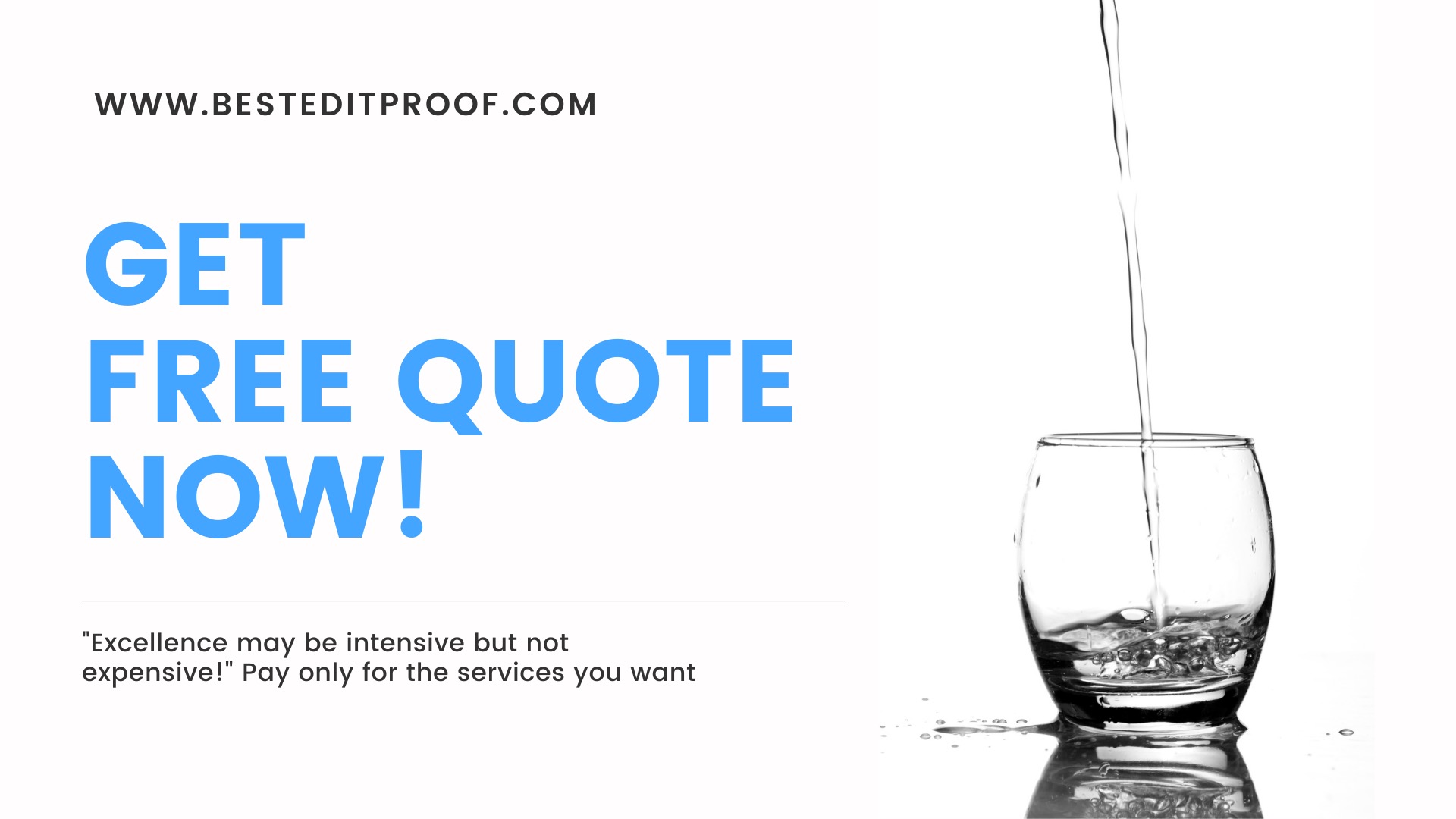 24/7 customer support | Live support
Contact us to get support with academic editing and proofreading. We have a 24/7 active live chat mode to offer you direct support along with qualified editors to refine and furbish your manuscript.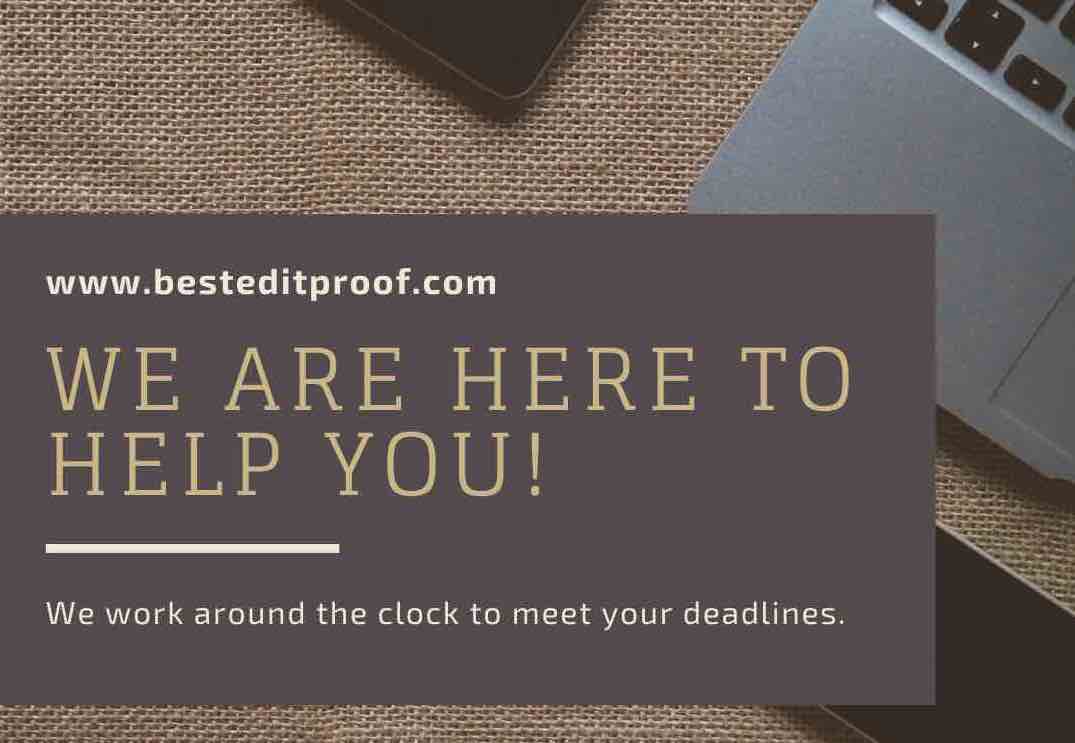 Stay tuned for updated information about editing and proofreading services!
Follow us on Twitter, LinkedIn, Facebook, Instagram, and Medium.
For more posts, click here.
This article explains the importance of editing and proofreading services discusses how editing and proofreading services improve your academic work. To give you an opportunity to practice proofreading, we have left a few spelling, punctuation, or grammatical errors in the text. See if you can spot them! If you spot the errors correctly, you will be entitled to a 10% discount.