Proofreading is a tested method to make any piece of writing error-free and attractive. It is the final stage of any writing procedure. No matter if you are writing an academic essay, a research paper, or any online article, your writing process is considered incomplete without proofreading.
Proofreading involves the process of comprehensive checking of your written draft in terms of spelling mistakes, syntax, grammatical and punctuation errors, and other minor mistakes regarding writing style. However, editing is a more comprehensive and time taking process than proofreading. Completing these two steps efficiently refers to an outstanding piece of writing.
Do editing and proofreading services serve the same purpose?
There is always a misconception regarding editing and proofreading services. Although both services are somehow connected to each other, they still have many differences.
Proofreading and editing are two major aspects that are to be focused on in order to successfully complete an academic content file. Although editing and proofreading are two different services, requiring different sets of skills, it can be said that the quality of the final article depends upon both proofreading and editing equally. Both of these two aspects of academic content writing are immensely important to be carried out in order to put up high-quality academic content with zero error and great readability or flow. In this guide, the concepts of proofreading and editing will be cleared accordingly, focusing on the basic differences as well as techniques to accomplish both tasks.
Major differences between editing and proofreading services
Who needs these services?
Anyone who has already drafted a research paper can consult a proofreader to ensure accuracy in the writing. The purpose of proofreading service is to correct all errors in grammar, punctuation, syntax, and spelling in a manuscript.

If you wish to see whether the final version of your document contains any minor errors, then you need proofreading services instead of editing services.

However, anyone who needs changes in sentence construction, framework, and tone, can avail of editing services. It would be safe to say that that proofreading comes after the editing process.
What are the functional differences between editing and proofreading services?
Proofreading involves the rectification of spelling, wrong grammar usage, and punctuation and syntax errors. On another side, editing refers to the core checking and rectification. An editor crosschecks all the logic used in your writing and makes necessary changes in sentence construction to make the paper error-free and technically sounder.

An editing service also ensures that a paper is error-free. Thus, an editor will correct all errors in grammar, typography, punctuation, syntax, and spelling in a manuscript. In this sense, the editing service includes proofreading service as well.

However, strictly speaking, proofreading your document is the last stage before it is delivered to you. Therefore, even if an editor has corrected many of the errors that a proofreader would correct, the document must still pass through this last stage—proofreading.
Before hiring a professional editor or a proofreader, you might find the following articles helpful:
What are the other differences between editing and proofreading services?
Apart from the above-mentioned, there are many more differences between these two services. Let's summarize all the differences in the following points:
Proofreading only deals with grammatical errors and inconsistencies. However, editing deals with clarity and enhances readability.

For proofreading, an individual may not require the subject knowledge. However, an editor should have subject matter expertise about the topic to ensure no discrepancy in the academic paper.

Editing involves quality checking, but proofreaders are not bothered about them.

In academic editing, editors also need to rewrite many parts to enhance the standard and clarity, but proofreaders generally don't rewrite sentences or phrases.

As editing refers to core checking, it covers the part of proofreading as well.

The editing process requires longer time and harder work than proofreading.

Unlike proofreading services, editing services sometimes deal with the formatting of your documents. Editors usually check the formatting of headings, font selection, title page check, references, and many other things to keep the standard of your academic writing.

Editing services mostly format your documents for journal submission. Where the manuscript is one intended for publication in a journal, the primary aim of formatting is to ensure that your manuscript text is consistent with your journal guidelines. This includes layout, font selection, spacing, formatting of headings, in-text citations and references, title page check, a check to ensure the appropriate placement of tables and figures as well as the inclusion of all required sections.

However, editing services do not cover academic writing or extensive formatting. If the text requires extensive journal-specific formatting such as creating a reference list, adding missing citations, the assigned editor will include a detailed note about how the text did not meet the formatting requirements.

Besides, the creation of a reference list with a full reference to every citation in the text and every work cited in the notes, placing the reference at the appropriate point in the text, or adding citations to narrative parts of the manuscript, etc., is beyond a basic editing service and requires extensive formatting service.

That means the assigned editor will check existing formatting and fix the detected issues but will not create a new reference list or add missing citations, endnotes, or footnotes as these corrective measures fall outside of the responsibility of the editor.

Features of professional proofreading services
Professional proofreaders have some specific features that make proofreading services quite popular. Proofreading services ensure no loopholes in your writing in terms of grammar, spelling, and punctuation.
They don't entirely rely on grammar and spelling checkers
Online tools can be helpful, but we can't rely on them blindly. These tools are developed with highly advanced programming languages that follow certain guidelines only. However, proofreaders have real-life experiences and understand the emotions behind writing and instant requirements very well. With extensive grammatical knowledge and real-life experience in proofreading, the proofreaders can ensure the ultimate accuracy in your written manuscript.
The process is slow but extensive
Proofreaders read every word very carefully. Naturally, the process takes time. However, it ensures that your written paper is checked with the utmost priority.
Ensures the accuracy in punctuation
They also check punctuation marks very carefully and make changes if required.
Well versed in academic guidelines
The proofreading process is generally conducted by experienced editors. Therefore, they are well-acquainted with academic guidelines. They also rectify minor mistakes in formatting and referencing. Take note that proofreading doesn't cover extensive scholastic editing.
Final Note
Whether you have written an academic research paper, dissertation, or any other academic thesis, you need to give special attention to proofreading. However, if you need expert proofreading and editing service under the same roof, Best Edit & Proof brings you extensive services. Our experienced PhD-holding editors review your entire documents and rectify necessary portions of your writing. We promise you to give value-added services.
Do you need an expert to review and edit your manuscript?
Have you completed writing your manuscript? Do you want someone to review the entire article and make necessary changes if required? If yes, we bring the most trusted and efficient editing and proofreading services near you. At Best Edit & Proof, our experts will edit and proofread your papers to make necessary changes.
Best Edit & Proof expert editors and proofreaders focus on offering manuscripts with proper tone, content, and style of academic writing and also provide an upscale editing and proofreading service for you. If you consider our pieces of advice, you will witness a notable increase in the chance for your research manuscript to be accepted by the publishers. We work together as an academic writing style guide by bestowing subject-area editing and proofreading around several categorized styles of writing. With the group of our expert editors, you will always find us all set to help you identify the tone and style that your manuscript needs to get a nod from the publishers.
English manuscript formatting service
You can also avail of our assistance if you are looking for editors who can format your manuscript, or just check on the particular styles for the formatting task as per the guidelines provided to you, e.g., APA, MLA, or Chicago/Turabian styles. Best Edit & Proof editors and proofreaders provide all sorts of academic writing help, including editing and proofreading services, using our user-friendly website, and a streamlined ordering process.
Get a free quote for editing and proofreading now!
Kindly visit our order page if you want our subject-area editors or language experts to work on your manuscript to improve its tone and style and give it a perfect academic tone and style through proper editing and proofreading. The process of submitting a paper is very easy and quick. Click here to find out how it works.
Our pricing is based on the type of service you avail of here, be it editing or proofreading. We charge on the basis of the word count of your manuscript that you submit for editing and proofreading and the turnaround time it takes to get it done. If you want to get an instant price quote for your project, copy and paste your document or enter your word count into our pricing calculator.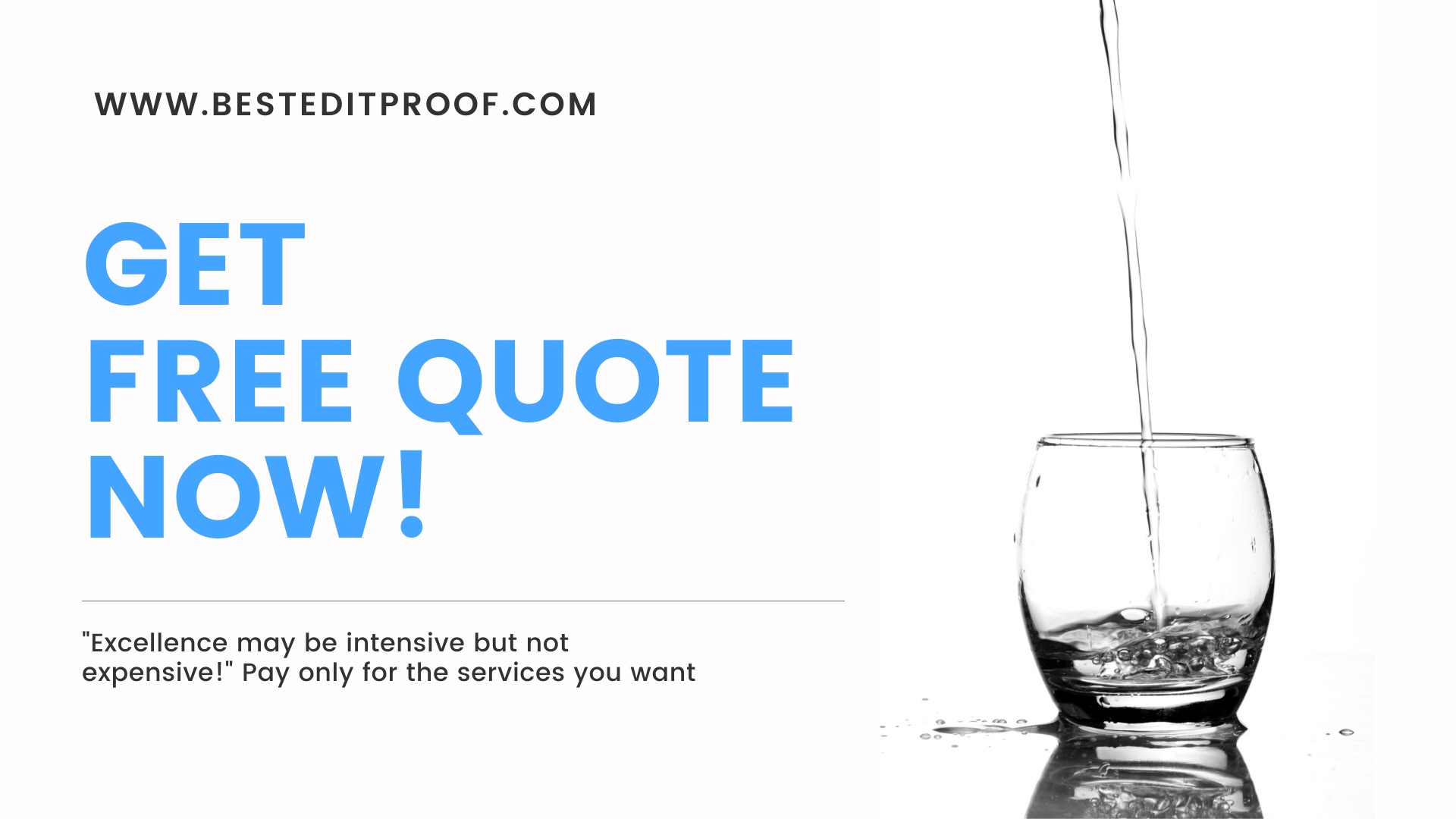 24/7 customer support | Live support
If you need support for editing and proofreading services, contact us. You can also e-mail us or use the 24/7 live chat module to get direct support. We have a 24/7 active live chat mode to offer you direct support along with qualified editors to refine and furbish your manuscript. Alternatively, you can text us through our WhatsApp business support line.

Stay tuned for updated information about editing and proofreading services!
Follow us on Twitter, LinkedIn, Facebook, Instagram, and Medium.
For more posts, click here.
Do you like this article? Make sure to share and subscribe!
This brief guide discusses the major differences between proofreading and editing services. To give you an opportunity to practice proofreading, we have left a few spelling, punctuation, or grammatical errors in the text. See if you can spot them! If you spot the errors correctly, you will be entitled to a 10% discount.