In Academic writing, proofreading and editing services play a crucial role. Any scholarly written document needs to be edited or proofread before final submission or publication in a journal or somewhere else. In this case, consulting a professional proofreading and editing service to make your academic work flawless and more attractive is a smart decision.
However, the problem causes in terms of service charge. People regularly get befuddled about the cost while seeking assistance from a proofreader and editor. Being concerned about the situation, Best Edit & Proof has made a simple price guide to give you a basic idea about the cost of proofreading and editing services.
The basic factors to consider charges of proofreading
Quality plays the most crucial role in determining the cost of editing and proofreading services. Generally, the cost of proofreading and editing depends on some basic factors such as types of documents, word counts, and turnaround time. Take note that the pricing may vary from service provider to service provider.
1. Pricing as per the type of document
Some proofreading and editing firms determine the service charge as per the type of document whereas service providers like Best Edit & Proof charge similar prices irrespective of the type of document whether you have written a personal essay, a thesis, dissertation, or a research paper. These services are especially important for non-native English speakers. However, it doesn't mean that native English speakers don't need proofreading and editing services. In both cases, we spot several common grammatical and sentence construction errors.
2. Pricing as per hour
Some particular service providers hourly charge. However, being a reliable proofreading and editing service, we can tell you that hourly proofreading services can be risky. Proofreading and editing require time and patience. Editors even can't forecast the exact time required to proofread or edit any scholarly written document. In this case, if you value your money, you should be more aware while hiring an hour-based service.
However, these hourly proofreading services are generally provided by freelancers. It can range up to $10 to $100 per hour relying on the quality of work and qualification of the editor or proofreader. Also, these charges are variable in different countries and project types.
3. Pricing as per page
We often notice that many proofreaders and editors charge as per the number of pages. They calculate the words per page as an average depending on the font and line spaces. A regular page generally includes 300–350 words. Though pricing as per page may seem to be cost-effective initially, it ultimately charges similar to cost per word.
Reputed proofreaders and editors generally charge per word. However, if you have made up your mind to go for pricing as per page, make sure to check the background and reliability of the particular proofreader or editor. Please note, the charges are variable from service to service.
4. Pricing as per word count and turnaround time
It is the most standard way of charging proofreading and editing services. Most professional proofreaders and editors charge per word and turnaround time. Pricing as per word count is completely aligned with the turnaround time. Generally, the cost per word count depends on the types of services and turnaround time.
Suppose you need 100 words to be proofread in 5 days, it may charge you approximately $3. Here, the charge per word also depends on the turnaround time you expect. For instance, proofreading a manuscript of 1000 words in 5 days may charge $27. However, if you need the same in 10 or 15 days, the charges may reduce as per the pricing policy of the proofreader you hire.
5. Pricing based on the type of service (editing or proofreading)
Pricing based on the types of service is also very common in the proofreading and editing industry. Many people have a misconception that proofreading and editing are the same services. Well, both services are interlinked but not similar.
Generally, a proofreader checks all the usage of grammar, wrong spelling, incorrect punctuation, and other general things. On another side of the coin, editors rectify core writing issues such as sentence construction, readability, and academic tone. Naturally, editing charges are higher than just proofreading. Where proofreading service demands $25/1000words (10 days TAT), editing service may cost approximately $29/1000words (10 days TAT).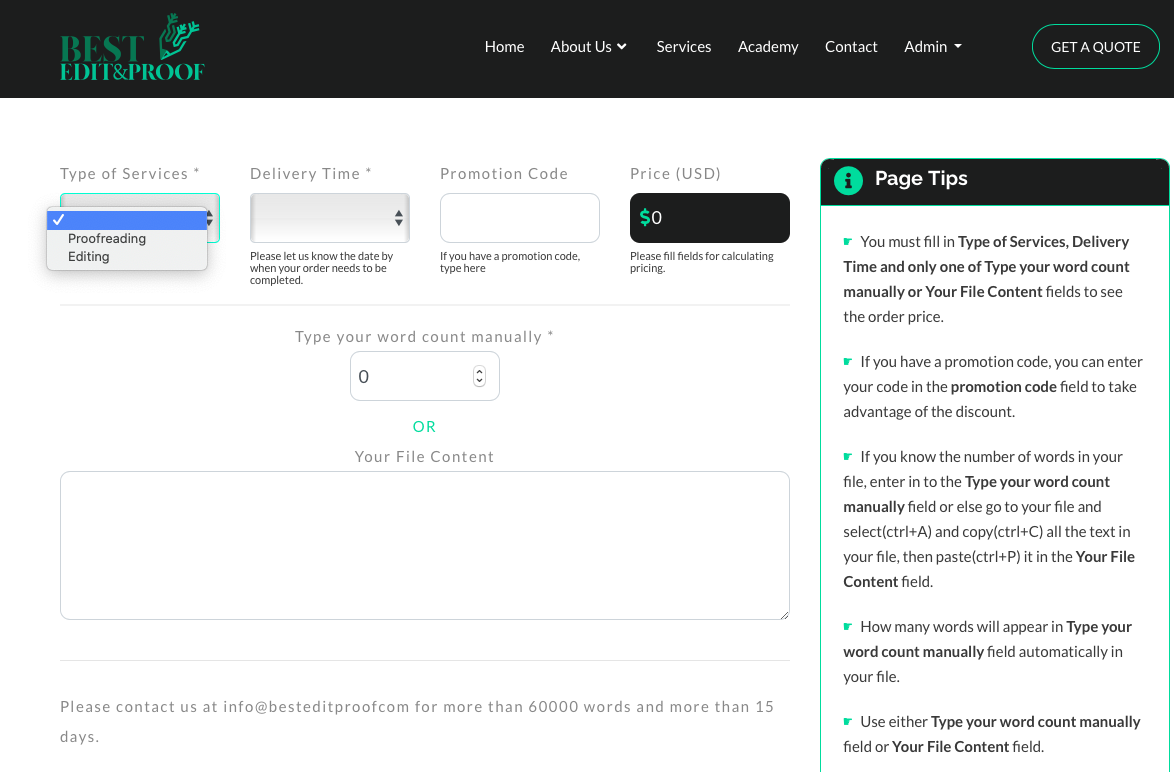 6. What is Best Edit & Proof editing and proofreading pricing policy?
At Best Edit & Proof, we have kept our pricing policy very simple and straightforward. Our pricing policy relies on the following three basic parameters: number of words, turnaround time, and type of service (proofreading or editing). Our very competitive prices are set at a flat rate per thousand words, so you will know in advance precisely how much the job will cost. The price you are quoted remains unchanged irrespective of the complexity of the document or the volume of corrections needed. Please note that if you are a newly registered user, you are also eligible to get a one-time discount code.
New Users

Word Count

Turnaround Time

Proofreading

Editing

Proofreading

Editing

1000

3 days

$29

$33

$26

$30

1000

5 days

$27

$31

$24

$28

1000

10 days

$25

$29

$23

$27

1000

10 days

$23

$27

$21

$25
We have customized pricing policies for different services based on the turnaround time. You may check our price from our personalized price section by inserting your requirements. We don't enjoy any hidden charges.
Why should you rely on Best Edit & Proof?
Best Edit & Proof don't believe in making fake promises. Along with having flat pricing policies, we have a team of experienced and qualified editors with us. Whether it is proofreading and editing, we assure flawless service. Give your written paper more clarity and customized tone as per its requirements with us.
Do you need an expert to review and edit your manuscript?
Have you completed writing your manuscript? Do you want someone to review the entire article and make necessary changes if required? If yes, we bring the most trusted and efficient editing and proofreading services near you. At Best Edit & Proof, our experts will edit and proofread your papers to make necessary changes.
Best Edit & Proof expert editors and proofreaders focus on offering manuscripts with proper tone, content, and style of academic writing and also provide an upscale editing and proofreading service for you. If you consider our pieces of advice, you will witness a notable increase in the chance for your research manuscript to be accepted by the publishers. We work together as an academic writing style guide by bestowing subject-area editing and proofreading around several categorized styles of writing. With the group of our expert editors, you will always find us all set to help you identify the tone and style that your manuscript needs to get a nod from the publishers.
English manuscript formatting service
You can also avail of our assistance if you are looking for editors who can format your manuscript, or just check on the particular styles for the formatting task as per the guidelines provided to you, e.g., APA, MLA, or Chicago/Turabian styles. Best Edit & Proof editors and proofreaders provide all sorts of academic writing help, including editing and proofreading services, using our user-friendly website, and a streamlined ordering process.
Get a free quote for editing and proofreading now!
Kindly visit our order page if you want our subject-area editors or language experts to work on your manuscript to improve its tone and style and give it a perfect academic tone and style through proper editing and proofreading. The process of submitting a paper is very easy and quick. Click here to find out how it works.
Our pricing is based on the type of service you avail of here, be it editing or proofreading. We charge on the basis of the word count of your manuscript that you submit for editing and proofreading and the turnaround time it takes to get it done. If you want to get an instant price quote for your project, copy and paste your document or enter your word count into our pricing calculator.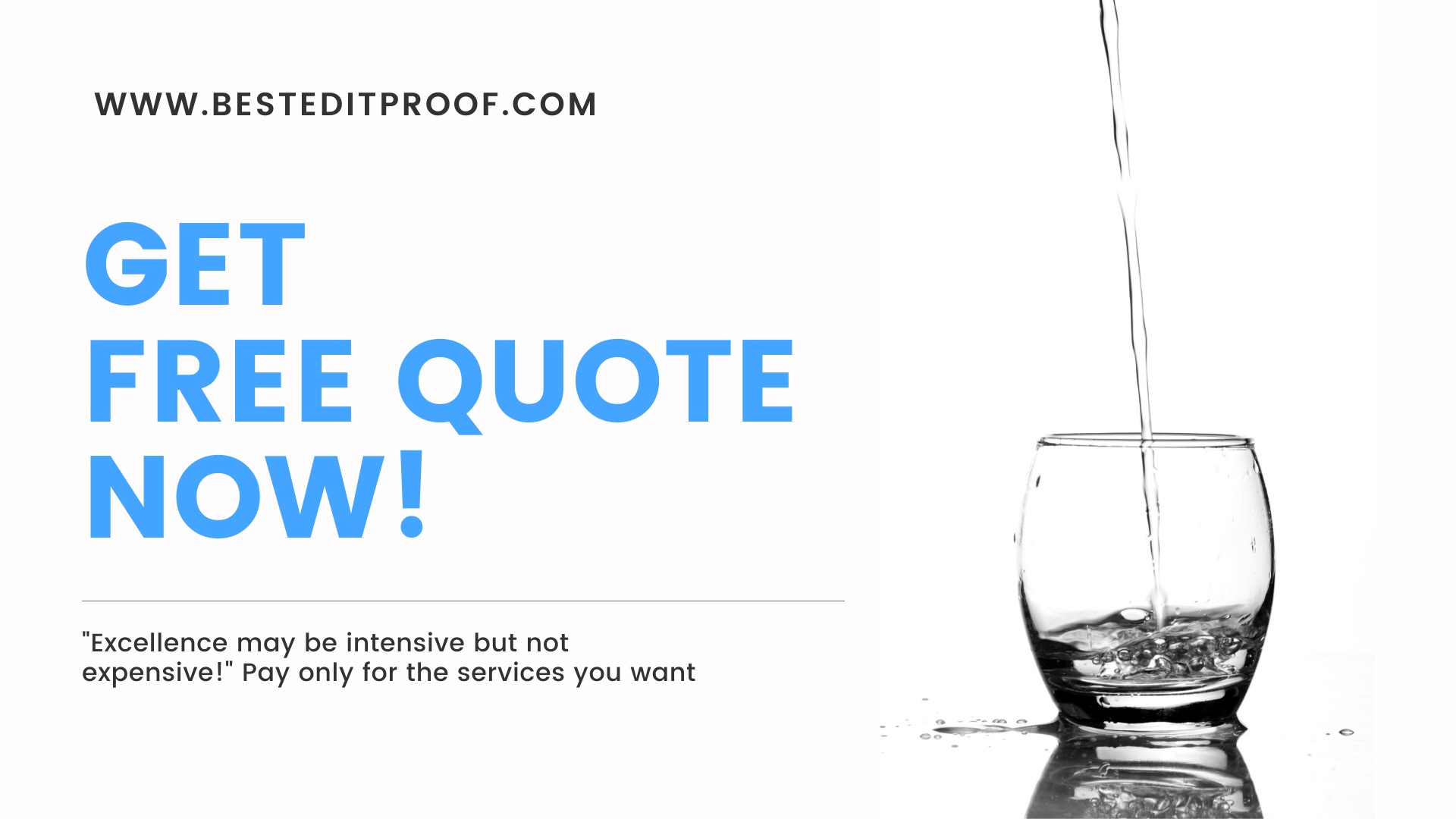 24/7 customer support | Live support
If you need support for editing and proofreading services, contact us. You can also e-mail us or use the 24/7 live chat module to get direct support. We have a 24/7 active live chat mode to offer you direct support along with qualified editors to refine and furbish your manuscript. Alternatively, you can text us through our WhatsApp business support line.

Stay tuned for updated information about editing and proofreading services!
Follow us on Twitter, LinkedIn, Facebook, Instagram, and Medium.
For more posts, click here.
Do you like this article? Make sure to share and subscribe!
This brief guide discusses how much do proofreading and editing services cost. To give you an opportunity to practice proofreading, we have left a few spelling, punctuation, or grammatical errors in the text. See if you can spot them! If you spot the errors correctly, you will be entitled to a 10% discount.