This article discusses the definition, importance, and steps of peer-reviewed journals. To give you an opportunity to practice proofreading, we have left a few spelling, punctuation, or grammatical errors in the text. See if you can spot them! If you spot the errors correctly, you will be entitled to a 10% discount.
Peer-reviewed, also known as refereed journals, have an editorial board of subject experts who review and evaluate submitted articles before accepting them for the publication process. Thus, an academic journal may be a scholarly journal but not a peer-reviewed journal. Peer-reviewed journals are considered one of the most veritably trusted sources of information. Not only do these journals have verified information, but their content also carries the affirmation of many reputed scholars, scientists, and subject experts. This article discusses the definition and process of peer-reviewed journals and their importance in the academic field.
What does peer-review mean?
In academic writing, peer review is a validating process. It entails the careful perusal and scrutiny of an author's work, generally a journal article, by a board of experts. Only when these intellectuals approbate that work does it become fit for publication in a journal. The peer-review system is, ideally, simple but quite effective in hindsight. As such, it has enjoyed a formal place among scholars for almost 300 years.
As the name suggests, peer-reviewed journals publish peer-reviewed articles and enjoy a considerable amount of reputation among the academic community for the work they do. They work as a reputable platform for scholars to publish their research and shine in their respective fields. Also, these journals work as trusty repositories of verified content on various topics.
Peer-reviewed journals are the first choice of many scholars and researchers when it comes to accessing quality content on a plethora of subject matters.
Importance of peer-reviewed journals
Over the years, peer-reviewed journals have become an indispensable component of the academic community. These journals have become a go-to source for countless research scholars and academicians all worldwide.
Here we have a few prominent reasons that highlight the importance of peer-reviewed journals:
Ensuring the availability of only high-quality research articles in journals.

Making quality research available to the scholarly masses.

Encouraging research scholars to write only first-rate and original manuscripts.

Forming repositories of exceptional research work on a plethora of subjects.

Criticism of peer-reviewed journals
Like everything else in this world, peer-reviewed journals have too received their fair share of criticism.
According to a study by Kelly et al. (2014), a major criticism of peer review is that there is little evidence that the process actually works, that it is actually an effective screen for good quality scientific work, and that it actually improves the quality of scientific literature. Here is what they found:
As a 2002 study published in the Journal of the American Medical Association concluded, ''Editorial peer review, although widely used, is largely untested and its effects are uncertain.'' Critics also argue that peer review is not effective at detecting errors. Highlighting this point, an experiment by Godlee et al. published in the British Medical Journal (BMJ) inserted eight deliberate errors into a paper that was nearly ready for publication and then sent the paper to 420 potential reviewers. Of the 420 reviewers that received the paper, 221 (53%) responded, the average number of errors spotted by reviewers was two, no reviewer spotted more than five errors, and 35 reviewers (16%) did not spot any.
Though the critics count many reasons, the caveats mostly highlight the following primary reasons:
The irritatingly slow process of reviewing the manuscripts.

The possibility of reviewers holding a bias toward an author or a research field.

The supposed lack of transparency during the process.
The peer-review process
As simple as this process sounds, there are still a few steps that entail the process of approving an author's work. The peer-review process consists of a two-stage process: internal assessment and external assessment.
Here, we explain the steps involved in each stage.
Stage 1: Internal Assessment
1. Submission of a manuscript
A manuscript must fulfill certain criteria to become eligible for peer review. The author should ensure that he/she has properly formatted the manuscript, made the writing easily readable, and eliminated any traces of plagiarism. Also, the context of the manuscript should fit within the journal's scope. When all these parameters have been fulfilled, the process moves on to the next step.
Writing the perfect manuscript demands significant skill and a good amount of time. Scholars are not sure if they possess the required linguistic and grammatical prowess to edit and proofread on their own. So how should one go about it? In such cases, hiring professionals for the work is a preferred step. Professional editing and proofreading services take a manuscript by following all the guidelines of academic writing.
2. Appointment of an editor
The main job of an assigned editor is to verify whether the manuscript sits within the prescribed quality parameters of the journal. Passing this phase is crucial for the manuscript as only then does it go to the experts for review. The infamous "desk rejection" also happens at this step.
Stage 2: External Assessment
1. Reviewing by external peers
The whole process centers around this very step. A manuscript that passes the initial assessment is then forwarded to a minimum of two reviewers. These subject-matter experts review the manuscript and generate a detailed review report. The report consists of their opinion on the contents of the manuscript. The reviewers then relay this report to the journal editor. The publication of a manuscript majorly depends on this review report.
2. Editor's assessment of the review report
The assigned editor studies the review report and decides whether the manuscript should be forwarded for publication. In certain cases, editors, based on the review reports, also contact the authors to make certain revisions. These revisions signify that upon their integration into the manuscript, it will be ready to publish.
3. Conveying the editor's decision to the reviewers
The editor then makes the referees or the reviewers aware of his decision to publish the manuscript.
Overview
Peer-reviewed journals and the peer-review process are two of the most revered components of academic writing. Apart from maintaining high standards of research articles and ensuring the credibility of research, they provide scholars with a platform where they can showcase their research prowess.
Not only researchers who publish their work but also scholars who read these journals are greatly benefited from such journals. Thanks to these journals, finding verified answers to some of the most twisted and inscrutable questions in a research field is majorly possible.
Lastly, though there are several criticisms of the peer-review process, its pros far outweigh its cons. Hence, for scholars looking to include valid research work in their academic work, peer-reviewed journals are the way to go.
If you need us to make your manuscript shine, contact us unhesitatingly!
Best Edit & Proof expert editors and proofreaders focus on offering manuscripts with proper tone, content, and style of academic writing, and also provide an upscale editing and proofreading service for you. If you consider our pieces of advice, you will witness a notable increase in the chance for your research manuscript to be accepted by the publishers. We work together as an academic writing style guide by bestowing subject-area editing and proofreading around several categorized writing styles. With the group of our expert editors, you will always find us all set to help you identify the tone and style that your manuscript needs to get a nod from the publishers.
English manuscript formatting service
You can also avail of our assistance if you are looking for editors who can format your manuscript, or just check on the particular styles for the formatting task as per the guidelines provided to you, e.g., APA, MLA, or Chicago/Turabian styles. Best Edit & Proof editors and proofreaders provide all sorts of academic writing help, including editing and proofreading services, using our user-friendly website, and a streamlined ordering process.
Get a free quote for editing and proofreading now!
Visit our order page if you want our subject-area editors or language experts to work on your manuscript to improve its tone and style and give it a perfect academic tone and style through proper editing and proofreading. The process of submitting a paper is very easy and quick. Click here to find out how it works.
Our pricing is based on the type of service you avail of here, be it editing or proofreading. We charge on the basis of the word count of your manuscript that you submit for editing and proofreading and the turnaround time it takes to get it done. If you want to get an instant price quote for your project, copy and paste your document or enter your word count into our pricing calculator.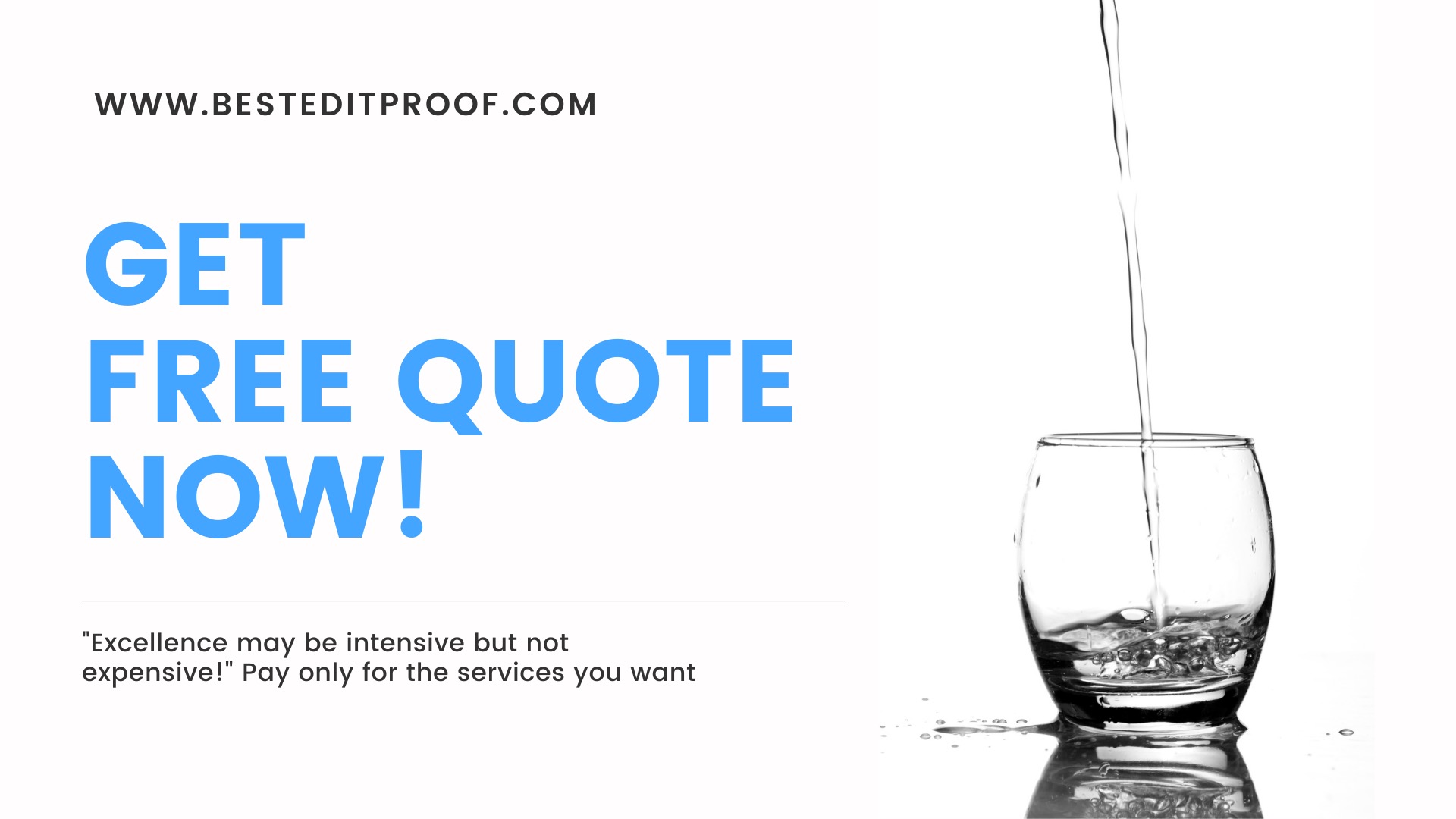 24/7 customer support | Live support
Contact us to get support with academic editing and proofreading. We have a 24/7 active live chat mode to offer you direct support along with qualified editors to refine and furbish your manuscript.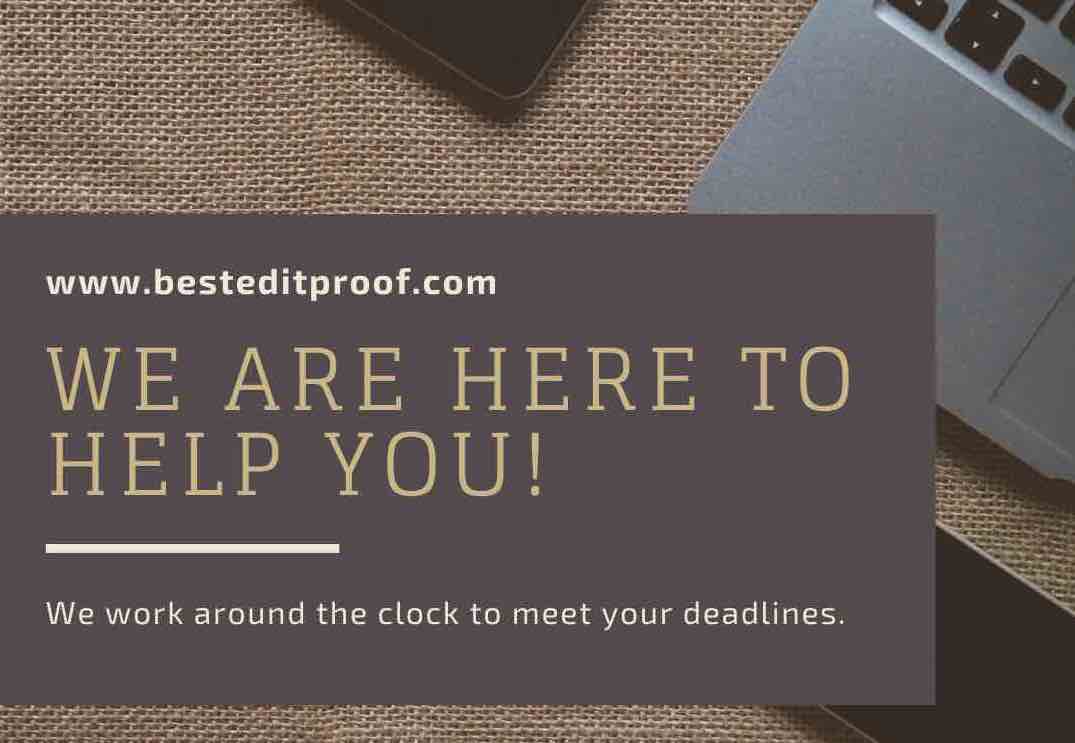 Stay tuned for updated information about editing and proofreading services!
Follow us on Twitter, LinkedIn, Facebook, Instagram, and Medium.
For more posts, click here.