This guide discusses how to find scholarly journal articles. To give you an opportunity to practice proofreading, we have left a few spelling, punctuation, or grammatical errors in the text. See if you can spot them! If you spot the errors correctly, you will be entitled to a 10% discount.
The term ''scholarly journal'' itself possesses its definition: a journal that is created by scholars for scholars. In simple words, scholarly journals or peer-reviewed journals publish articles or research papers composed by scholars in a particular field. Such articles generally contain more information and sophisticated tone than regular articles of magazines. Any scholarly article has to go through several levels of quality test in terms of content and languages before it gets published in peer-reviewed journals like PLOS One, Modern Fiction Studies, American Economic Review, etc. The process of the quality test or scrutiny to ensure scientific authenticity is also known as Peer Review.
We often notice that many students and aspiring researchers sometimes make mistakes in identifying scholarly articles. Best Edit & Proof brings this general guide that can be helpful for anyone to identify scholarly journal articles.
Must have qualities scholarly journal articles
Appearance
Scholarly journals generally do not promote or advertise anything. Unlike magazines, it does not contain any colorful graphics. Articles are generally descriptive with the usages of graphs and charts. Moreover, articles must include the name or initials of the author.
Authoritative tone
The essence of scholarly articles lies in their authoritative tone. These articles are generally composed by a researcher or researchers in the particular field of academics. However, if more than one author is listed for an article, one author is generally registered as a primary researcher who reviews and supervises the articles composed by another author or authors. No matter who writes the article or who supervises it, the authoritative tone must be intact. The most highly advanced scholarly articles are published by renowned associations like American Psychological Association.
Reliability
Articles published in scholarly journals are reviewed by experts. The evaluation process or ''peer-reviewed'' is directed to ensure the authenticity and ground of the article. The articles must meet the general standard of the study managed by the journal. Click here to see how to write an effective response to reviewers.
Purpose
Scholarly articles are generally purpose-oriented compositions. It must reflect the systematic study on a particular topic. The article communicates with the field of research in a more informative way.
Writing style
As mentioned earlier scholarly journals must be written in an authoritative tone. Along with the tone, it must be written in a formal language using an advanced vocabulary. Take note that these articles are not written for a general audience. Therefore, the author composes the articles for informed readers.
· 6 Bad Habits to Avoid in Academic Writing
· 15 Basic Capitalization Rules for English Grammar
· How to Write an Effective Introduction for Academic Essays
· 7 Tips to Write an Effective Research Paper
Reference
Referencing is the most vital part of a scholarly article. Here, the author needs to cite the information from reliable sources. The list of references can be inserted at the end of the article in the form of a bibliography or footnotes.
· Citation Styles | Which Citation Style Should I Use?
· Importance of Academic Referencing and Citing
· How to Format Citations Automatically Using Microsoft Word
· APA Format Guide for Academic Manuscripts
· APA Manual 7th Edition: The 9 Most Important Changes
Other important elements of peer-reviewed articles
Abstract
An abstract generally involves a summary. The summary includes the purpose, procedure/methods, outcome, and conclusion that gives the readers an entire view of the article.
Journal type
The journals where articles are published must be renowned and approved by university presses and famous organizations.
Language
The language used in the scholarly articles must have a professional tone maintaining the standard of academics. Generally, authors use technical and sophisticated language and expect the audience to be knowledgeable enough to assess the language.
Charts and graphs
Some scholarly articles involve graphs, charts to ensure more accuracy in the scholarly article and show the statistics to exhibit the result and the process through which they reach the result.
DOI number
A Digital Object Identifier (DOI) is a string of numbers, letters, and symbols that are used to identify a work or document and link to it on the web. The aim of a DOI is to help readers locate a document from the author's citation. It is a unique number, and it will always refer to that article. Even if a web address (URL) changes, the DOI will never change.

In most recently published articles, the DOI information is printed with the article itself. When the article does not involve a DOI, you should check Crossref.org to find the information. Crossref aims to make research outputs easy to find, cite, link, assess, and reuse. One of Crossref services is to register DOIs, and researchers should follow their guidelines for the display of DOIs.
The company summarizes its aims to rally the community; tag and share metadata; run an open infrastructure; play with technology, and make tools and services—all help put scholarly content in context. Check the following article for DOI format in APA style:
· How to Format DOI in APA Style (APA 7th Edition Update)
Literary criticism
Scholarly journal articles are incomplete without literary criticism. It refers to the study, understanding, and assessment of literary works. Literary criticism makes articles stronger from multiple literary aspects.
Literature review
Any peer-reviewed article or research paper contains a literature review within it. It is a comprehensive summary of past research on a similar topic. It is a detailed assessment of previous articles and relevant sources of the particular area of research.
A literature review is a survey of academic sources on a specific subject, providing an overview of current knowledge, allowing you to discuss relevant theories, methods, and gaps in the existing research. Writing a literature review contains finding relevant publications, critically analyzing the sources, and explaining your findings in the literature. A well-written literature review doesn't only summarize sources, it also aims to analyze, synthesize, and critically evaluate to give a clear picture of the state of knowledge on the topic.
Difference between scholarly articles and magazines
This article has already involved all the basic aspects of a scholarly journal article. However, to give our readers a better understanding, we bring this list of basic differences between scholarly articles and articles published in magazines.
Scholarly articles are composed by researchers in a specific field. However, magazine articles are written by professional writers and journalists.

Peer-reviewed articles are solely intended for scholars and students in the same field. But magazines articles are generated for the general audience.

The language used in peer-reviewed articles must be sophisticated and technical, depending on the topic. However, magazine articles may involve a controversial tone.

Academic articles are published in scholarly journals. However, every other blog and articles sites can promote general articles for advertising purposes.
If you are a researcher striving difficult to complete your research paper or article and publish your research in a scholarly journal, you must meet all the conditions and aspects to form an informative and error-free article. Most researchers consult with professional proofreaders and editors like Best Edit & Proof to ensure that the article meets the standard of being posted in scientific or scholarly journals.
Do you need help? Contact us unhesitatingly!
Best Edit & Proof expert editors and proofreaders focus on offering manuscripts with proper tone, content, and style of academic writing, and also provide an upscale editing and proofreading service for you. If you consider our pieces of advice, you will witness a notable increase in the chance for your research manuscript to be accepted by the publishers. We work together as an academic writing style guide by bestowing subject-area editing and proofreading around several categorized writing styles. With the group of our expert editors, you will always find us all set to help you identify the tone and style that your manuscript needs to get a nod from the publishers.
English manuscript formatting service
You can also avail of our assistance if you are looking for editors who can format your manuscript, or just check on the particular styles for the formatting task as per the guidelines provided to you, e.g., APA, MLA, or Chicago/Turabian styles. Best Edit & Proof editors and proofreaders provide all sorts of academic writing help, including editing and proofreading services, using our user-friendly website, and a streamlined ordering process.
Get a free quote for editing and proofreading now!
Visit our order page if you want our subject-area editors or language experts to work on your manuscript to improve its tone and style and give it a perfect academic tone and style through proper editing and proofreading. The process of submitting a paper is very easy and quick. Click here to find out how it works.
Our pricing is based on the type of service you avail of here, be it editing or proofreading. We charge on the basis of the word count of your manuscript that you submit for editing and proofreading and the turnaround time it takes to get it done. If you want to get an instant price quote for your project, copy and paste your document or enter your word count into our pricing calculator.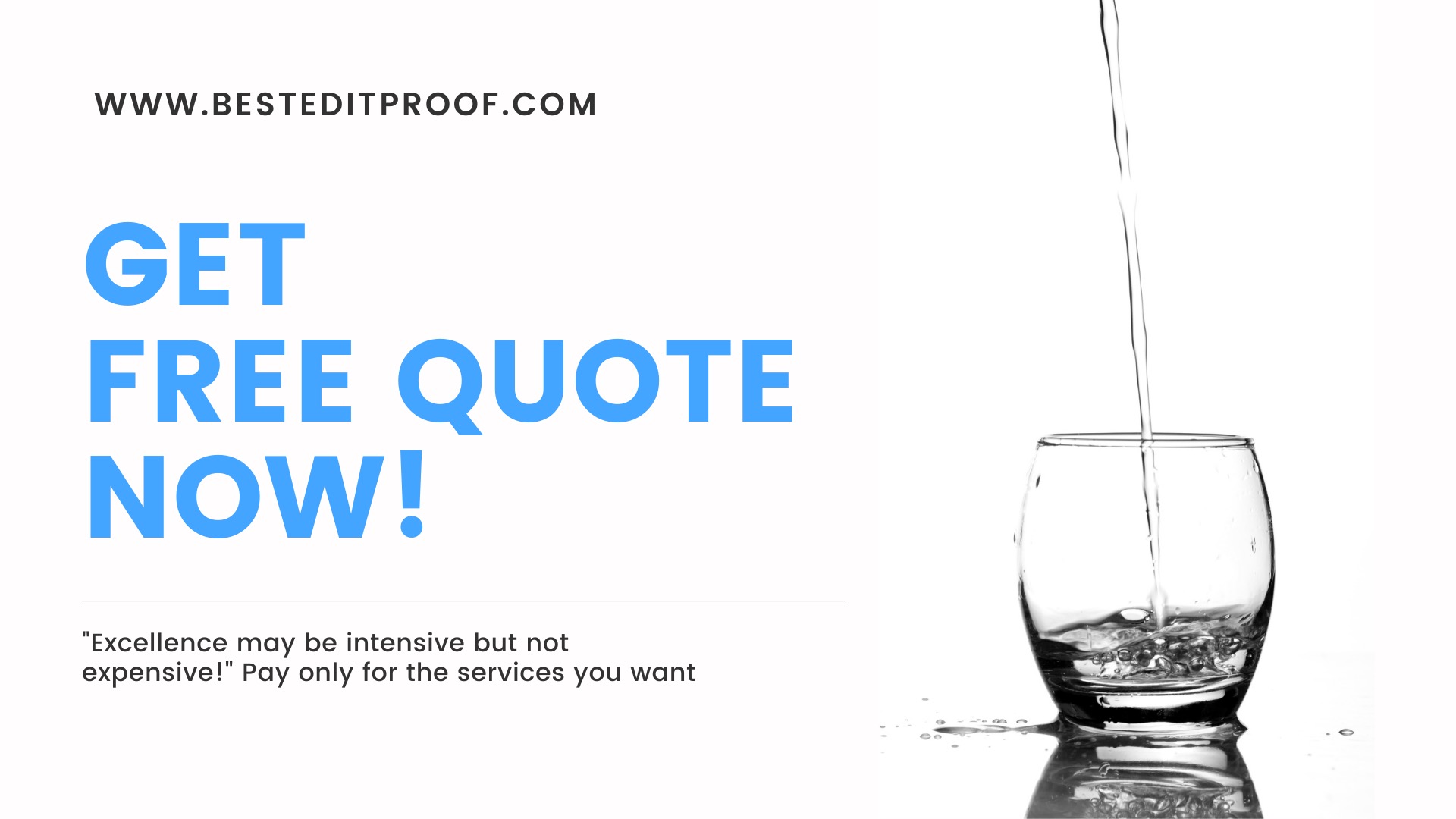 24/7 customer support | Live support
Contact us to get support with academic editing and proofreading. We have a 24/7 active live chat mode to offer you direct support along with qualified editors to refine and furbish your manuscript.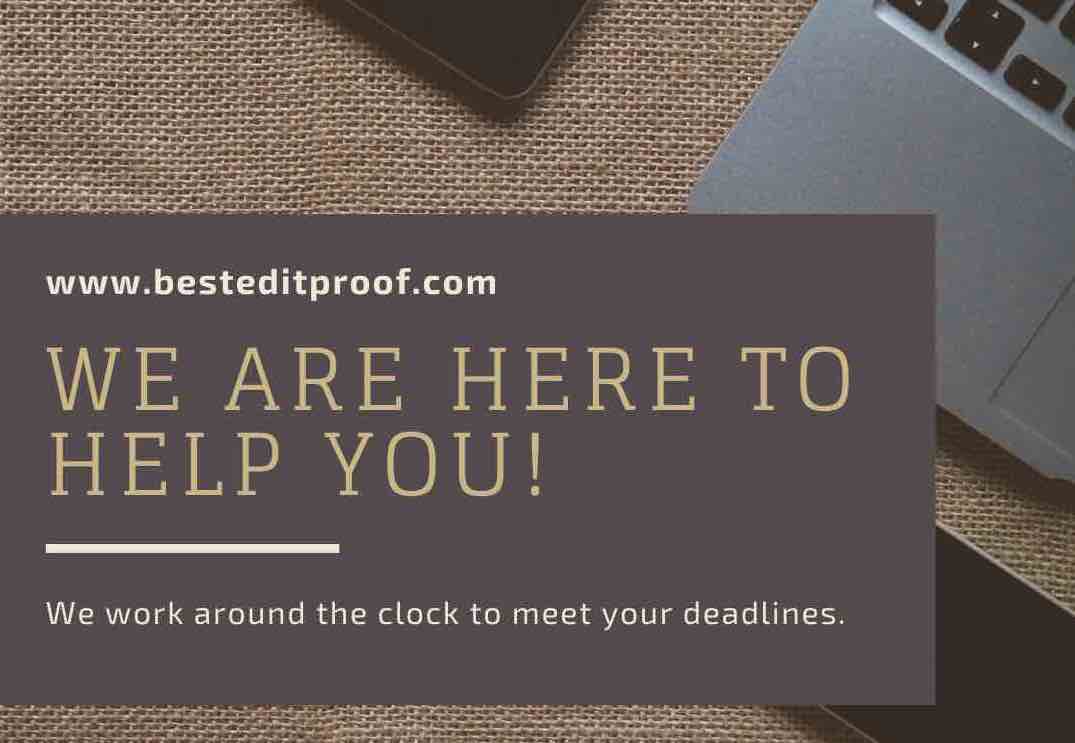 Stay tuned for updated information about editing and proofreading services!
Follow us on Twitter, LinkedIn, Facebook, Instagram, and Medium.
For more posts, click here.