Ever wondered how your favorite books are written, compiled, and presented to you? Of course, the writer is the captain of the ship, but there are numerous phases to how a book is compiled and published. One of the main phases is the editing and proofreading phase. That's right — all the books that you have read to date are all edited and proofread several times before they get the final nod of approval for publication.
If this field of industry interests you or you are simply wondering how things are done, this is the article that you have been looking for. Here, we will discuss the process of editing and proofreading for books.
While we are at it, we will also focus on why editing and proofreading are important and why you should pay close attention to them. Then, if you are ready, let us see how your favorite books come to be!
Why bother about editing and proofreading?
A lot of time, various researchers or students come forward with the question — is there a need for editing and proofreading?
While writing a manuscript, we generally focus on the facts that make up the actual content. While we focus on writing the right words, we may neglect some essential grammatical and academic writing rules. This is where editing and proofreading come into the picture.
Editing and proofreading services are not just correcting the content carefully but also restructuring the sentences. These services are the two most important aspects of writing that ensure the ultimate quality of the given content and make the written piece more appropriate, accurate, authorized, engaging, and clear.
Well, the simple answer to the question is yes. Yes, you need to edit and proofread your work — be it a book, an academic paper, a thesis, a blog, a magazine article, or even a brochure content. The reason is simple — editing and proofreading make your work better in quality.
To understand this statement, let us look at the meaning of the following. Editing is the process of checking your content for improvement on the following front:
Structure and composition

Content relevancy

Delivery and tone of the content

Overall quality
Editing is an in-depth process that helps make your content clear and better to convey the message properly. However, proofreading is a part of the editing process that is performed at the very end of the writing process. Here, things such as grammatical errors, spelling errors, and other minor errors that are otherwise ignored are looked at and corrected.
The purpose of the proofreading service is to correct all errors in grammar, punctuation, syntax, and spelling in a manuscript. If you wish to see whether the final version of your document contains any minor errors, then you need proofreading services instead of editing services.
However, editing service necessitates more of an extra effort from an editor than does proofreading. Editing service aims to improve the academic quality of your manuscript, hence the content, overall structure, quality of findings and analysis, simplicity, and referencing.
Editing service mostly makes some fundamental changes to improve the standard of the academic writing of the document. Accordingly, editors will sometimes re-write some parts of your document. This is especially important because an editing service aims to guarantee that the purposes of the document are met.
Editing service ensures that a paper is error-free. Thus, an editor will correct all errors in grammar, typography, punctuation, syntax, and spelling in a manuscript. In this sense, the editing service includes proofreading service as well. However, strictly speaking, proofreading your document is the last stage before it is delivered to you. Therefore, even if an editor has corrected many of the errors that a proofreader would correct, the document must still pass through this last stage—proofreading.
These are the reasons why editing and proofreading are important. While some scholars or students usually end up ignoring the importance of these two services, professionals will always suggest the use of these two. While you may edit and proofread on your own, having a professional eye is always better, which is why numerous services catering to such needs are available.

Reasons why your book needs editing and proofreading
Earlier, we understood why editing and proofreading services are of great importance, but shall we understand why a book needs editing and proofreading? When an author writes a book, they tend to stop seeing the whole thing as it is. An outside opinion here can do wonders.
Also, when you have such a view of your work, you tend not to look at the mistakes. Again, another set of eyes here can easily recognize the mistakes and help refine the content.
Not to mention, editors and proofreaders are professionals, and with their knowledge, they can make your work a thousand times better.
Process of book editing and proofreading
Editing and proofreading a book is a very thorough process. Though the basic process is the same, there are a few things that may vary depending on various factors. One of the major deciding factors is the type and genre of the book. For example, fiction and nonfiction books will have different types of editing approaches. Let us look at the processes in detail:
Book editing
There are various types of edits involved in the process. Once an author has completed the manuscript, these are the edits that the manuscript goes through:
Editing of the structure, style, and flow

Editing and refining the plot and characters/checking and verifying facts (for nonfiction)

Then, editing the manuscript chapter-wise

The first round of basic grammar and punctuation edits
Book proofreading
Book proofreading is, as usual, the last stage of the editing process. Unlike editing, book proofreading is the same despite the type, genre, and style of the book. Here, the following are looked after:
Rectifying grammatical errors and spellings

Fixing typing mistakes

Looking for syntax mistakes

Overall checking for minor errors
Once these are done, the book gets the final nod of approval from the editor and proofreader to go for publishing. As mentioned earlier, the process is very intricate and takes a long time. Sometimes, an editing process may take more than a few rounds for a book to be properly edited.
So, that is how books are edited and proofread. You can always edit and proofread by yourself, but hiring a professional can help you out. After all, you are not simply getting a third-person opinion, but you are also getting added knowledge and experience.
If you need us to make your manuscript shine, contact us unhesitatingly!
Best Edit & Proof expert editors and proofreaders focus on offering manuscripts with proper tone, content, and style of academic writing, and also provide an upscale editing and proofreading service for you. If you consider our pieces of advice, you will witness a notable increase in the chance for your research manuscript to be accepted by the publishers. We work together as an academic writing style guide by bestowing subject-area editing and proofreading around several categorized writing styles. With the group of our expert editors, you will always find us all set to help you identify the tone and style that your manuscript needs to get a nod from the publishers.
English manuscript formatting service
You can also avail of our assistance if you are looking for editors who can format your manuscript, or just check on the particular styles for the formatting task as per the guidelines provided to you, e.g., APA, MLA, or Chicago/Turabian styles. Best Edit & Proof editors and proofreaders provide all sorts of academic writing help, including editing and proofreading services, using our user-friendly website, and a streamlined ordering process.
Get a free quote for editing and proofreading now!
Visit our order page if you want our subject-area editors or language experts to work on your manuscript to improve its tone and style and give it a perfect academic tone and style through proper editing and proofreading. The process of submitting a paper is very easy and quick. Click here to find out how it works.
Our pricing is based on the type of service you avail of here, be it editing or proofreading. We charge on the basis of the word count of your manuscript that you submit for editing and proofreading and the turnaround time it takes to get it done. If you want to get an instant price quote for your project, copy and paste your document or enter your word count into our pricing calculator.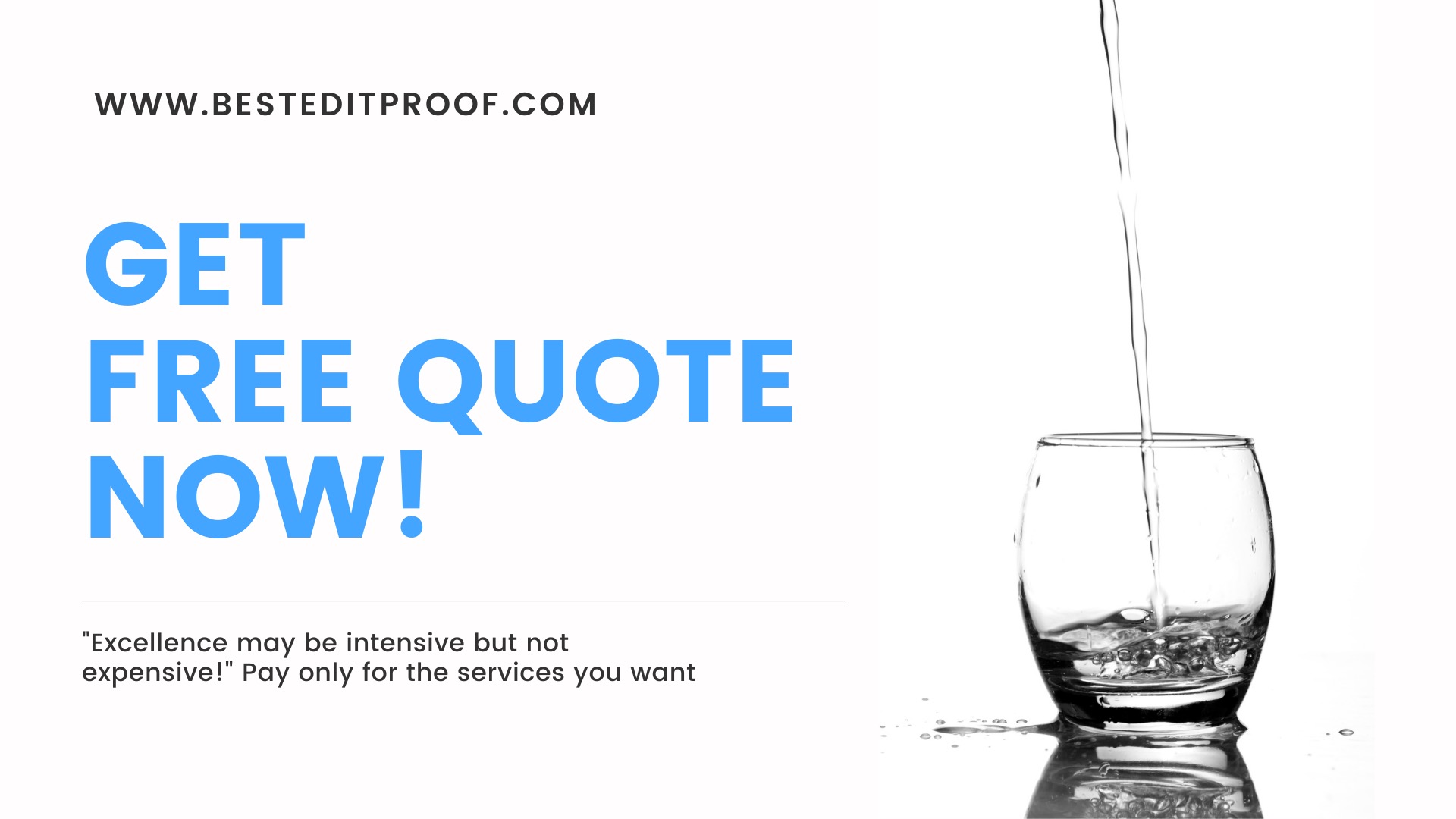 24/7 customer support | Live support
Contact us to get support with academic editing and proofreading. We have a 24/7 active live chat mode to offer you direct support along with qualified editors to refine and furbish your manuscript.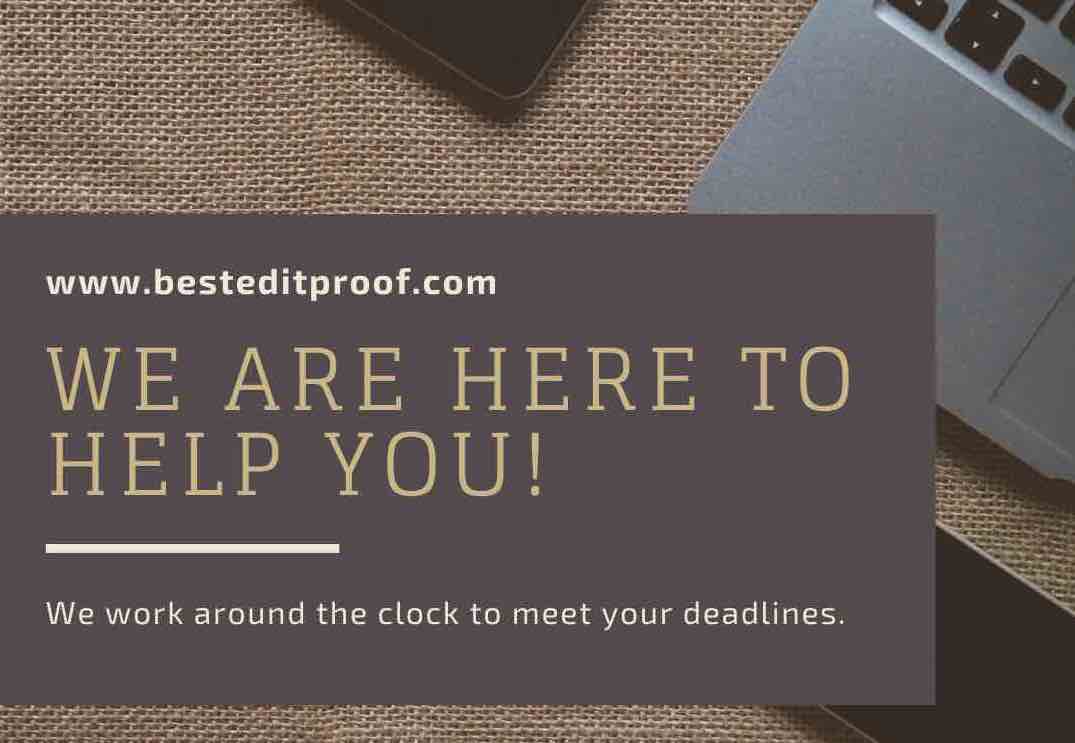 Stay tuned for updated information about editing and proofreading services!
Follow us on Twitter, LinkedIn, Facebook, Instagram, and Medium.
For more posts, click here.
This article explains the key features you need to know about editing and proofreading services for books. To give you an opportunity to practice proofreading, we have left a few spelling, punctuation, or grammatical errors in the text. See if you can spot them! If you spot the errors correctly, you will be entitled to a 10% discount.