While writing a paper, generally, we focus on the facts that make up the actual content. While we focus on writing the right words, we may neglect some essential grammatical and academic writing rules. This is where editing and proofreading come into the picture.
Editing and proofreading services are not just correcting the content carefully but also structuring it. These services are the two most important aspects of writing that ensure the ultimate quality of the given content and make the written piece more appropriate, accurate, authorized, engaging, and clear.
Hiring a professional proofreading and editing service doesn't only eliminate frustration; there are other benefits as well. In this article, we discuss why you should hire professional proofreading and editing services.
1. Hiring a professional for editing and proofreading saves time
Hiring a professional for editing and proofreading saves time. Sometimes a single document can take 3–4 hours to edit. Moreover, the previous hours you've invested make it even more exhausting. Consequently, you're likely to spend more time on a document than the time it actually requires. Therefore, hiring a professional editor can make you save time.
Consequently, you can shift your focus to other unattended tasks on your schedules. This way, you can even enhance your productivity. A professional editor or proofreader would take less time to complete a task. Don't worry! Less time does not mean low-quality service. Thus, you'll be able to meet the deadlines efficiently while getting other work done.
2. Editing and proofreading services make your manuscripts error-free
Professional editors and proofreaders are proficient in their jobs. They have the relevant qualifications and experience. In addition, working with a wide variety of clients makes it easier for them to decide what a document need. Therefore, they are proficient at what may be a difficult task for you.
All these factors help them produce error-free content. Hence, if you are hiring a professional, you can remain stress-free as your content will be well taken care of. The content will be error-free and grammatically correct. In addition, nothing ever escapes the eyes of a professional editor and proofreader. So, the minute mistakes and typing errors that your regular grammar software misses will be taken care of too.
3. Cost-efficient
While you may be thinking that hiring a professional would only cost me, it isn't so. Yes, you'll have to pay a certain amount for the services, but you get several benefits in return. Moreover, if the content you're editing is needed for professional purposes, you should spend it on a professional to avoid repercussions.
Getting all such benefits at a minimal cost is a great deal. Therefore, the amount you'll be spending will be returned to you in benefits you get from the editing and proofreading services. So, you don't have to worry about the money spent on these services. However, you do need to carefully assess the chargers to prevent overspending.
4. Better language
An important aspect of the editing task is making sure the language of the content is profound as well as readable. Professional and experienced editors understand what sort of language is preferred by different types of readers. Therefore, they'll make sure your content is written in the best possible language.
Moreover, editors are aware of language trends and the type of content consumed by the public. Consequently, they can help you modify your content according to these trends. The language of your content is a crucial component. It can really make the deal or break the deal.
Therefore, it is necessary that your content is an easy read while sticking to the overall objective. An editor can make sure of that for you.
5. Valuable feedback from your editor and proofreader
With editing and proofreading services, you will have valuable feedback and some essential comments that the assigned editor or proofreader leaves on the right-hand side of the page. They entail changes and suggestions to help improve the clarity, flow, structure, readability, and quality of the manuscript. The revised version of your manuscript is returned with all edits visibly marked. In fact, all edits, including corrections, suggestions, and comments via the Microsoft Word Track-Changes function, appear in the margins of your returned document. It's easy to see and follow all the suggestions and changes as well as to accept or reject them. (Click here to see how to use the MS Word Track-Changes function).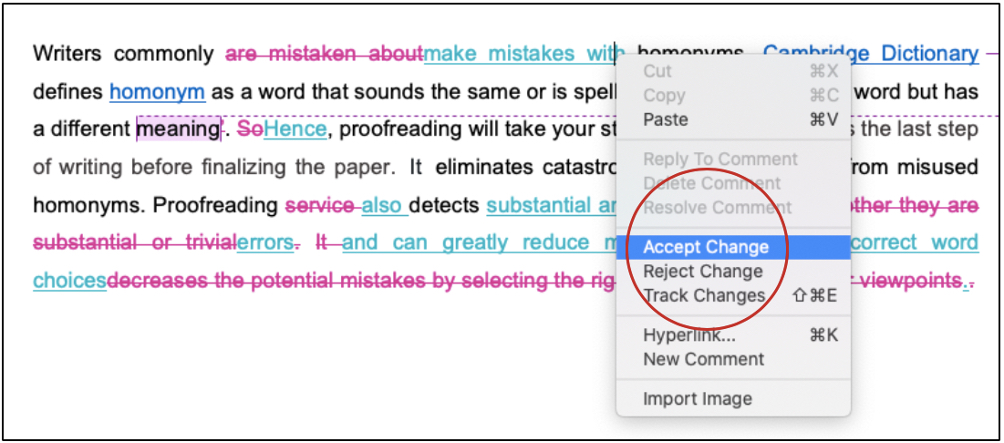 6. Professional touches
You can easily tell the differences between a document edited and proofread by a professional and that by a non-specialist. There are certain professional touches that create the distinction. These professional touches are a result of the experience that editors and proofreaders gain over a period.
Besides, professionals give a new viewpoint to your content. They view your draft in a whole new light, making it easier for them to make changes and edits. Getting an extra pair of eyes for your content can help you predict how the client will view the content. Therefore, if you are stuck with editing, you should refer to a professional.
In addition to the aforementioned benefits, editing services are a lot more than just correcting grammatical errors. Editing jobs can restructure your content and modify it according to your needs as well.
7. The chances of publication
With editing and proofreading services, the chances of publication of the manuscript are manifold enhanced. For academic achievement, staying ahead of the pack is always an important issue. Taking advantage of professional English editing and proofreading services can help you reach your potential and increase the chances of your work becoming published in a professional journal. Manuscripts edited by experienced native-speaker editors have an edge in the peer-review process.
8. Certificate of editing
Upon request, professional editing and proofreading companies provide a certificate of editing, which is generally required by most peer-review journals. It certifies that the manuscript has been edited and proofread by professional editors and proofreaders and that these processes were executed to ensure that the manuscript is free of (but not limited to) such English language errors as those of clarity, coherence, diction, grammar, punctuation, spelling, style, and syntax. Submitting a certificate to your journal makes the publication process easier.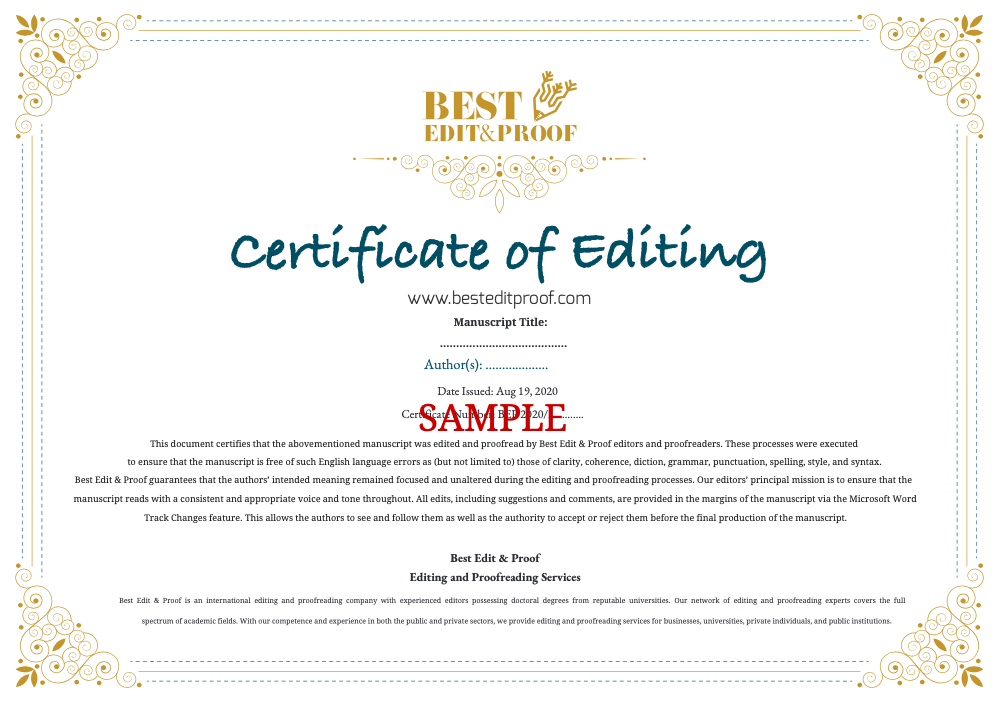 Do you need an expert to review and edit your manuscript?
Have you completed writing your manuscript? Do you want someone to review the entire article and make necessary changes if required? If yes, we bring the most trusted and efficient editing and proofreading services near you. At Best Edit & Proof, our experts will edit and proofread your papers to make necessary changes.
Best Edit & Proof expert editors and proofreaders focus on offering manuscripts with proper tone, content, and style of academic writing and also provide an upscale editing and proofreading service for you. If you consider our pieces of advice, you will witness a notable increase in the chance for your research manuscript to be accepted by the publishers. We work together as an academic writing style guide by bestowing subject-area editing and proofreading around several categorized styles of writing. With the group of our expert editors, you will always find us all set to help you identify the tone and style that your manuscript needs to get a nod from the publishers.
English manuscript formatting service
You can also avail of our assistance if you are looking for editors who can format your manuscript, or just check on the particular styles for the formatting task as per the guidelines provided to you, e.g., APA, MLA, or Chicago/Turabian styles. Best Edit & Proof editors and proofreaders provide all sorts of academic writing help, including editing and proofreading services, using our user-friendly website, and a streamlined ordering process.
Get a free quote for editing and proofreading now!
Kindly visit our order page if you want our subject-area editors or language experts to work on your manuscript to improve its tone and style and give it a perfect academic tone and style through proper editing and proofreading. The process of submitting a paper is very easy and quick. Click here to find out how it works.
Our pricing is based on the type of service you avail of here, be it editing or proofreading. We charge on the basis of the word count of your manuscript that you submit for editing and proofreading and the turnaround time it takes to get it done. If you want to get an instant price quote for your project, copy and paste your document or enter your word count into our pricing calculator.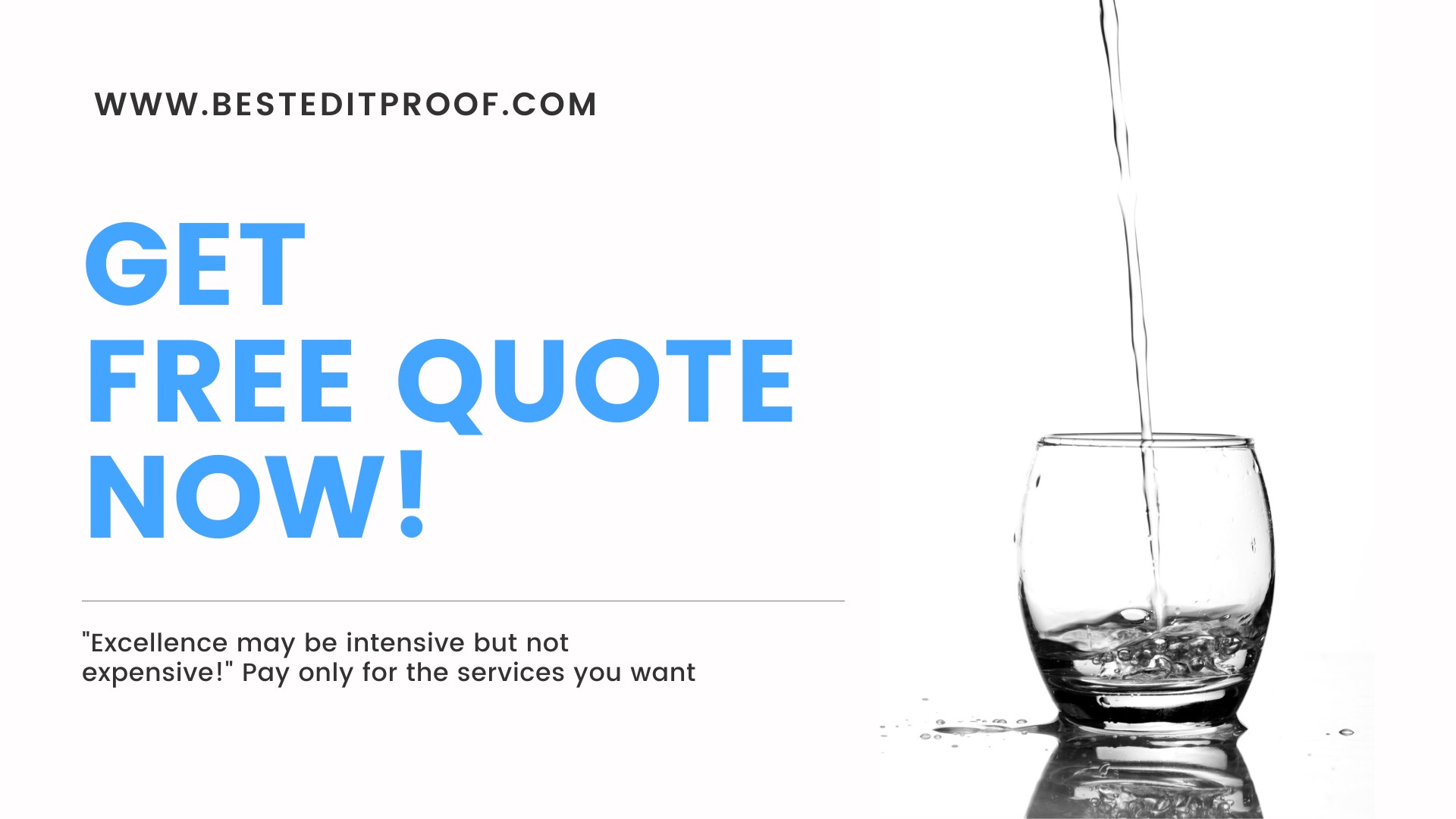 24/7 customer support | Live support
If you need support for editing and proofreading services, contact us. You can also e-mail us or use the 24/7 live chat module to get direct support. We have a 24/7 active live chat mode to offer you direct support along with qualified editors to refine and furbish your manuscript. Alternatively, you can text us through our WhatsApp business support line.
Stay tuned for updated information about editing and proofreading services!
Follow us on Twitter, LinkedIn, Facebook, Instagram, and Medium.
For more posts, click here.
Do you like this article? Make sure to share and subscribe!
This article discusses 8 main reasons why you need professional editing and proofreading services. To give you an opportunity to practice proofreading, we have left a few spelling, punctuation, or grammatical errors in the text. See if you can spot them! If you spot the errors correctly, you will be entitled to a 10% discount.