Although editing and proofreading terms can be used interchangeably, they are two different stages of the revision process. Both services require close and careful reading but use different methods and focus on different aspects of the manuscript. They produce different outcomes for writers, and therefore, researchers must be aware of what they do. Before you avail of these services, there are certain things that you should consider. Knowing these things allows you to hire skilled editors and proofreaders. It also protects you from overpaying. To help you out, we have listed some important points below.
1. Check qualifications to find skilled editors and proofreaders
Although there isn't any specific degree assigned to editing and proofreading job, you should still view the professional's degree major. People who have majored in literature, journalism, or other writing fields are often considered skilled editors and proofreaders.
Moreover, seeing how much education they have attained allows you to assess the quality levels they must be providing. You should also see the course they have completed or any additional certification or skill they have acquired. Assessing all these points can increase your chances of getting along with a good editor.
2. Work experience is considered one of the most important factors for editing and proofreading tasks
Work experience says a lot about a professional; the more experience, the more skilled a professional usually is. Hence, carefully examine their work experience before hiring editing and proofreading services. Keep an eye over the types of projects they have done and the volume of these types.
As a result, you'll also get an idea of the types of content they have dealt with it before, their specialization, and much more. Don't be afraid to ask for a sample as you can get an idea of how proficient the service provider is. Most people aren't hesitant toward sharing their samples, so don't hesitate to ask for them. Thus, always ask for the work background before you choose these services.
3. Communication skills
Communication skills are absolutely necessary for an editing or proofreading job. Since a professional will be working on your content, you should be able to communicate your ideas and observations freely. Similarly, the professional should be open to sharing his/her honest opinions without fearing your judgments.
Having good communication with the professional you've hired will only add to the quality of your work. You can always assess a person's communication skills by talking to them before hiring and asking several questions. Also, keep in mind not to take the edits suggested by the editors personally and use them to improve your editing skills.

4. Fee structure and pricing policy
Asking for the fee required for the services you are hiring is essential to determine whether they fit your budget or not. Moreover, you should always communicate on financial terms before hiring an individual and never after.
The pricing for proofreading and editing services depends on various factors:
Where the editor or proofreader or company is based

The skills and experience of the proofreader

The time it takes to proofread

Type of text

Length of text
A primary rate is the word count, usually followed by proofreading and editing agencies. However, they might charge you per page if you also need formatting included. Besides, some freelancers may also charge per hour.
Some professionals have pre-decided rates which they will communicate to you. If you have any issues with the rates, you can work them out or switch to someone else. It also suggested that you should compare the fee structure of different editors and proofreaders. It will give you a general idea of the normal rate and will protect you from being overcharged.
Make sure the price you are quoted remains unchanged irrespective of the complexity of the document or the volume of corrections needed.
5. How long does the process take?
Many agencies offer you deadlines according to your preference, needs, and budget. The longer the time taken for proofreading, the lesser the price. If you have strict deadlines that you need to meet, you should communicate the same to the professional you wish to hire. It'll let you know whether they can complete the given task within the deadline or not.
So, before hiring an editor or proofreader, ask them about the usual time it takes to complete the task. You can ask them for an estimate and then decide whether you want to employ their services or not. Therefore, it is necessary that you ask for the time required by the person to complete the task.
6. Editing or proofreading: Which service should you choose?
The difference between editing and proofreading services might be a challenging issue to understand. Many first-time Best Edit & Proof clients are not sure about the difference between these services. They may be irresolute about which service they should choose. Also, some academicians do not fully comprehend the main difference between editing and proofreading services. Knowing the difference is especially essential when you intend to hire an editor to polish up your paper.
Editing isn't limited to correcting errors only. There is a lot that an editor needs to do, such as structuring and formatting. Therefore, you should ask the person you're hiring beforehand about the aspects of editing that they cover.
If you don't, you might end up paying for services you haven't availed of. Moreover, the work will be unsatisfactory for you. Below are some of the aspects of editing and proofreading services. Review the following articles for more information:

Major Differences Between Academic Editing and Academic Proofreading Services
| | |
| --- | --- |
| Editing Service | Proofreading Service |
| Enhances the use of language and vocabulary. | Focuses on only grammatical errors made by the author. |
| Mitigates all kinds of clarity and readability issues. | Mostly mitigates surface issues such as grammatical errors, spelling errors, and inconsistency. |
| Performed on the very first draft of the academic content. | Performed on the final draft of the academic contents. |
| Allows decrement or increment of overall word count. | Does not allow any decrease or increase in the word count. |
| Requires interference of the main author(s). | Does not require the interference of the main author(s). |
| Addresses the issues related to clarity and readability of the content. | Addresses the issues related to grammatical errors, spelling mistakes, or punctuation errors in the file. |
| Helps in improving the academic approach of the content. | Does not majorly aim to improve the academic content. |
| Knowledge of the subject matter of the content is required. | Knowledge of the language, including grammar and spelling, is required. |
| Takes a long period of time and continues unless the file is totally completed. | Takes a relatively shorter period of time. |
7. Make sure proofreading and editing services are reliable
You would want editing and proofreading services that you can rely on and trust. Therefore, to know how good the service is, here are a few signs that you need to look out for:
What are the qualifications of the proofreaders?

How efficiently they handle customer service and feedback response?

Do they provide live support?

What are their complaint and refund policies?

What are their domain or page authority scores?

Do they provide a secure payment process?

Is the service they provide secure and confidential?

Are data protected by 256-bit SSL?

Do they provide free revisions with custom requests to ensure client satisfaction?

Is there editor/proofreader and client interaction?

Do they provide a certificate of proofreading?
Thus, that is all you need to know about proofreading services and how you can get one that you can entirely rely on. You might find the following article helpful:

8. Client support
Check if the company provides 24/7 client support service and works under tight deadlines to guarantee you have high-quality content.

Make sure your questions and queries are answered promptly.

Do you need an expert to review and edit your response to reviewers?
Have you completed your response? Do you want someone to review the entire article or your response only and make necessary changes if required? If yes, we bring the most trusted and efficient editing and proofreading services near you. At Best Edit & Proof, our experts will edit and proofread your response and article to make necessary changes.
Best Edit & Proof expert editors and proofreaders focus on offering manuscripts with proper tone, content, and style of academic writing and also provide an upscale editing and proofreading service for you. If you consider our pieces of advice, you will witness a notable increase in the chance for your research manuscript to be accepted by the publishers. We work together as an academic writing style guide by bestowing subject-area editing and proofreading around several categorized styles of writing. With the group of our expert editors, you will always find us all set to help you identify the tone and style that your manuscript needs to get a nod from the publishers.
English manuscript formatting service
You can also avail of our assistance if you are looking for editors who can format your manuscript, or just check on the particular styles for the formatting task as per the guidelines provided to you, e.g., APA, MLA, or Chicago/Turabian styles. Best Edit & Proof editors and proofreaders provide all sorts of academic writing help, including editing and proofreading services, using our user-friendly website, and a streamlined ordering process.
Get a free quote for editing and proofreading now!
Kindly visit our order page if you want our subject-area editors or language experts to work on your manuscript to improve its tone and style and give it a perfect academic tone and style through proper editing and proofreading. The process of submitting a paper is very easy and quick. Click here to find out how it works.
Our pricing is based on the type of service you avail of here, be it editing or proofreading. We charge on the basis of the word count of your manuscript that you submit for editing and proofreading and the turnaround time it takes to get it done. If you want to get an instant price quote for your project, copy and paste your document or enter your word count into our pricing calculator.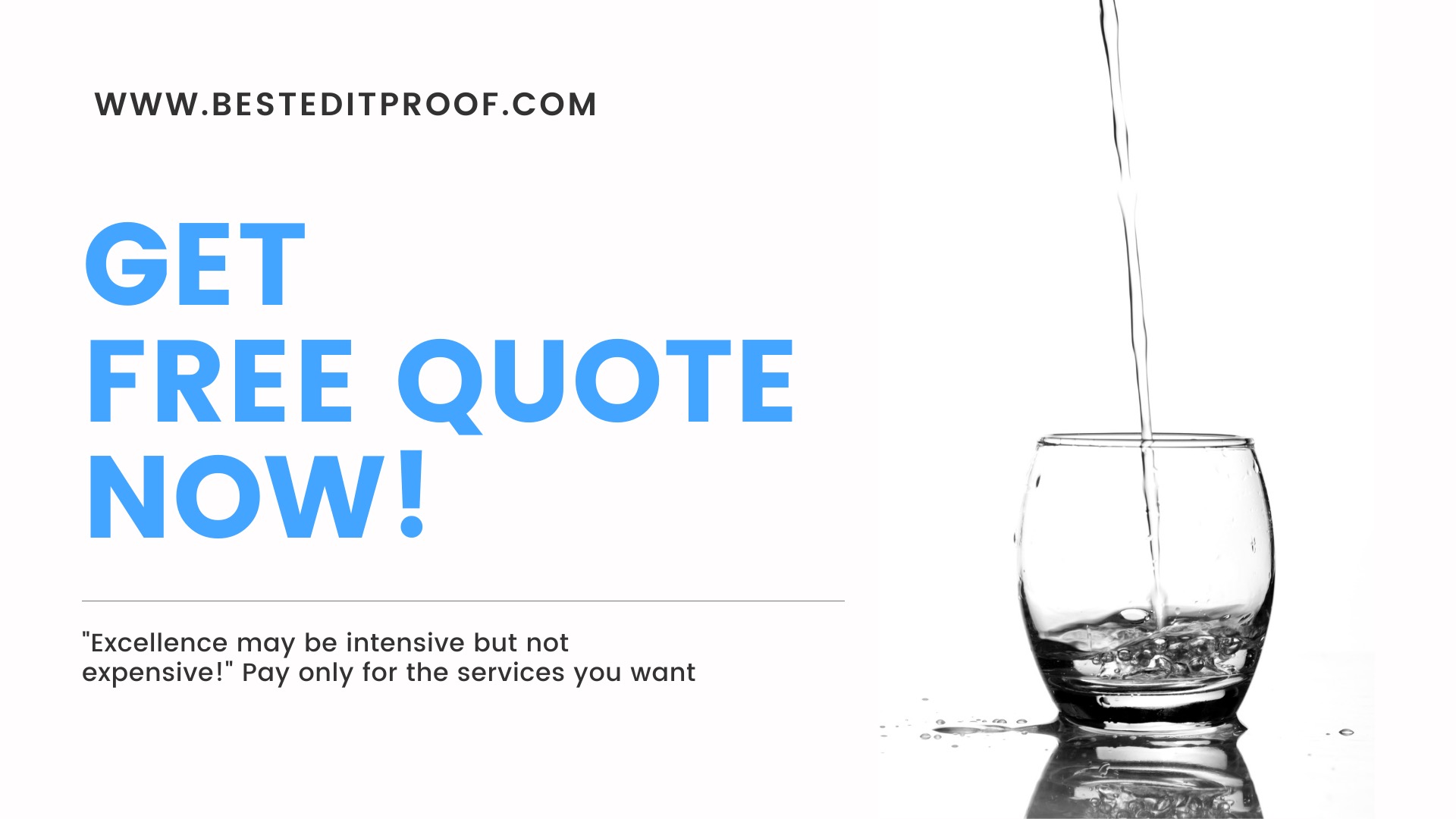 24/7 customer support | Live support
If you need support for editing and proofreading services, contact us. You can also e-mail us or use the 24/7 live chat module to get direct support. We have a 24/7 active live chat mode to offer you direct support along with qualified editors to refine and furbish your manuscript. Alternatively, you can text us through our WhatsApp business support line.
Stay tuned for updated information about editing and proofreading services!
Follow us on Twitter, LinkedIn, Facebook, Instagram, and Medium.
For more posts, click here.
Do you like this article? Make sure to share and subscribe!
This article discusses 8 things to consider before hiring online editing and proofreading services. To give you an opportunity to practice proofreading, we have left a few spelling, punctuation, or grammatical errors in the text. See if you can spot them! If you spot the errors correctly, you will be entitled to a 10% discount.