Paraphrasing is a regular exercise in academic writing. High school students, college students, and research scholars are required to paraphrase to demonstrate their understanding of a text. However, there are cases when, due to ineffective paraphrasing, instances of plagiarism dot an academic manuscript. Therefore, academic writers must correctly understand the fundamentals of academic paraphrasing and apply them to their writings to avoid any occurrence of any academic offense.
This article will peruse the anatomy of academic paraphrasing. In addition, it will examine how paraphrasing is different from summarization and suggest ways to paraphrase it effectively.
What is paraphrasing in academic writing?
Paraphrasing refers to the act of reinstating an already available set of ideas in own words. Ideal paraphrasing expresses the message of the source using a different set of words without deviating from its context and line of reasoning.
The following examples explain how paraphrasing works:
Original source: A trip to Kyoto, Japan, is incomplete without a tour of the Nijo Castle.
Paraphrase: An itinerary for a trip to Kyoto, Japan, must include a visit to the Nijo Castle.
Original source: Woolly mammoths faced extinction approximately 4000 years ago due to climate change.
Paraphrase: Not humans but climate change caused the extinction of Woolly mammoths nearly 4000 years ago.
The purpose of paraphrasing in academic texts, such as essays, research papers, and dissertations, is to relay the message of an original piece of text without plagiarizing. Paraphrasing also delineates how well has a student or a scholar understood a text to "reword" it without corrupting its essence.
Paraphrasing in academic writing vs. summarizing
Summarizing and paraphrasing might seem to have similar characteristics since they both work toward reformulating a piece of academic text. However, the difference lies in how and why they reformulate the text.
While paraphrasing transmutes the meaning of a text without omitting its intricacies and nuances, summarizing simply highlights the crux of the text.
Also, paraphrasing is used when an author wants to explain a concept but does not want to quote from a source excessively. Summarizing condenses a text to impart its central idea to the readers.
Paraphrasing in academic writing: 5 steps
The following steps instruct how the process of paraphrasing should be executed.
1. Scrutinizing the text
The first step to successfully paraphrasing a text is reading it closely. A close reading of a text enables a writer to firmly grasp its key concepts and the central idea.
While studying the text closely, the writer should make plenty of notes and curate a summary to facilitate future references.
2. Rewriting the concepts without referring to the source
Rewriting a text after scrutinizing it ensures that the writer has understood its message. The ideal way to rewrite is to avoid referring to the source even once and write what comes to mind.
3. Juxtaposing the rewritten version and the original
To confirm whether the rewritten version comprises all or most of the concepts of the original, the writer should place their version alongside the original and highlight the areas that are lacking.
In case any shortfalls occur, the writer should compensate for them. This is also the stage where the writer should adjust the language and diction of the paraphrased text to make it look more academic.
4. Using synonyms and altering the structure (to avoid plagiarism)
To avoid any instance of plagiarism in the paraphrased text, writers should substitute the original words and phrases with appropriate synonyms.
Copying the structure of the original text also amounts to plagiarism. Therefore, when paraphrasing, writers should make it a point to alter the original structure. They can do so by either changing the text's layout or changing the order in which key concepts appear in the source.
5. Citing the source
Including citations after paraphrasing is key to ensuring that the intellectual rights stay with the original author. Also, citations help the reader determine whether the paraphrased text maintains the claims of the source in its entirety.
Conclusion
Paraphrasing is a mandatory tool for all academics as a part of the writing aspect of their curriculum. As such, they should know how to paraphrase readily.
However, owing to the confusion surrounding paraphrasing due to lack of clear demarcation between it and rephrasing or summarizing, most academics find paraphrasing difficult.
Hence, to paraphrase properly, practicing regularly and referring to this guide should be a part of one's practice routine.
If you need help, then contact Best Edit & Proof!
Best Edit & Proof expert editors aim to provide your manuscripts with proper scholarly and academic tone and style. They will significantly improve the chances of having your research manuscript accepted for publishing. They provide subject-area proofreading and editing services in several fields categorized under various disciplines. With our extensive knowledge and expertise, we will help you find the right tone and style for your manuscript.
If you need our subject-area editors to format your manuscripts, giving you the fundamental rules for formatting your manuscripts as described in your guidelines, such as APA, MLA, or Chicago/Turabian styles, then contact us. At Best Edit & Proof, our proofreaders and editors edit every type of academic paper. We have a user-friendly website and a simplified ordering process.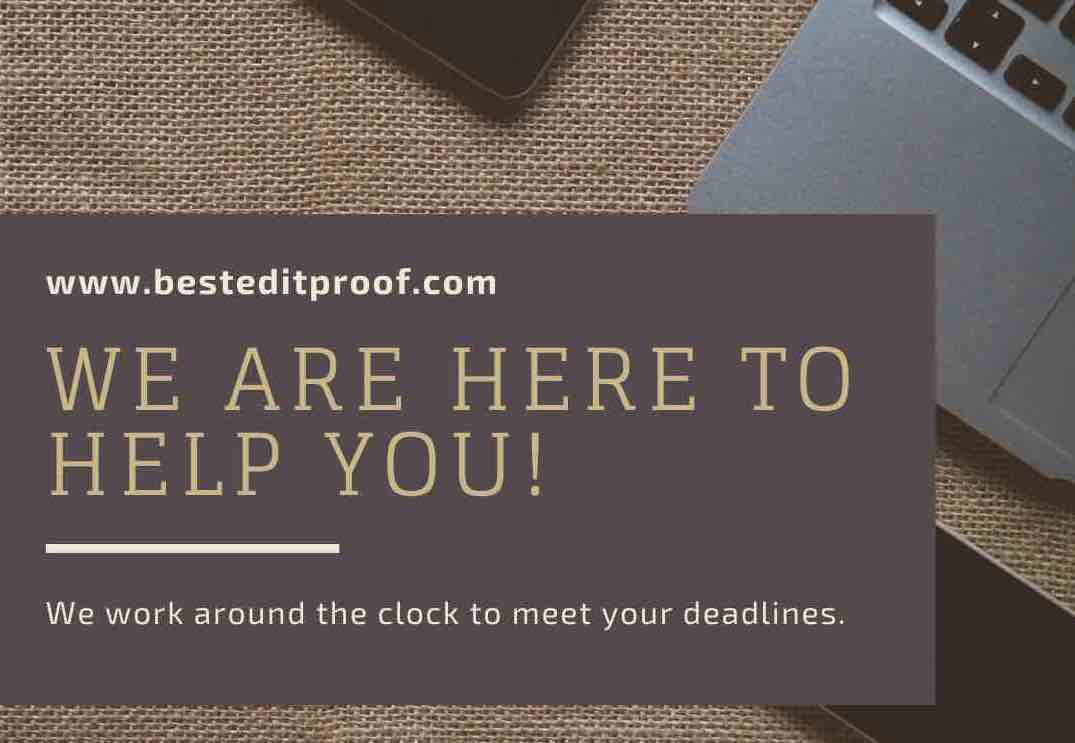 If you would like our subject-area editors and language experts to work on your project for the improvement of its academic tone and style, then please visit the order page. It is easy! It takes only a few minutes to submit your paper and complete the process. Click here to see how it works.
We have flat-rate pricing based on our type of service (editing or proofreading), word count, and turnaround time. Enter your word count or copy and paste your document into our pricing calculator to get an instant quote.
If you need support for editing and proofreading services, contact us. You can also e-mail us or use the 24/7 live chat module to get direct support. We have a 24/7 active live chat mode to offer you direct support along with qualified editors to refine and furbish your manuscript. Alternatively, you can text us through our WhatsApp business line.
Stay tuned for updated information about editing and proofreading services!
Follow us on Twitter, LinkedIn, Facebook, Instagram, and Medium.
For more posts, click here.
This article gives you some helpful tips to paraphrase in academic writing effectively. To give you an opportunity to practice proofreading, we have left a few spelling, punctuation, or grammatical errors in the text. See if you can spot them! If you spot the errors correctly, you will be entitled to a 10% discount.